Gloves are an indispensable part of our life. Can you think without it? I guess not. From doctors to food makers, in every necessary daily chore, we use gloves. But are all the gloves go same for every work? No, my folks. There are separate criteria, need that the user follows while using any type of gloves. For instance, the gloves that a doctor use is not appropriate for heavy workers who conduct wire works/carpentry/ etc. Gloves are the basic personal protective equipment (PPE) for any type of work. We can't ignore wearing this piece of cover in our hands. So, these are a must. The same pinch goes for the gardeners. A gardener needs to follow some thumb rules before buying a pair of gloves. In today's garden town, the claw garden gloves are really stealing the show.
What else do you need for gardening? You need pots, a garden tool set, a garden tool belt, and other things as well. So, keep them on your checklist as well. Gardening's Core is here to provide you with an overview of all the necessities you might need to run your beautiful, scenic garden! So, sit back and scroll out the best caw garden gloves we have picked for you. Are you ready to cover up your hands and dig straight into garden soil? Here, we begin.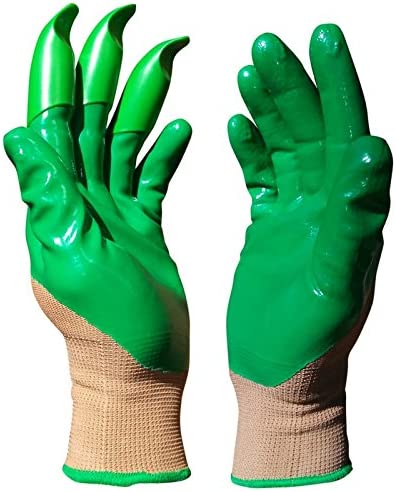 This garden good is perfect for you. If you use this to dig in the soil, plant trees, prune, any garden chores, you can always buy these claw garden gloves. What makes it so good?
Unisex: So, a man or a female gardener of any age can easily wrap up these claw gloves. For this reason, you can give a pair of Honey Badger claw gloves to any blossom keen who is up for gardening on any occasion. You can easily go through the size chart to get the right size for you.
Stretchable and Waterproof material: The claw garden gloves are so stretchy, and breathable that you can wear/take them off effortlessly. However, the upper part has claws, the olive green part is made of latex and polyester. And the wrist portion is made with nitrile. You don't need to think of your nails and hands. They will be all intact under these claw garden gloves while gardening. The claws are permanently sealed. So, no worries.
Lightweight and Ergonomic: You will get a pair of claw garden gloves, and these are only 85 grams and 10 inches long. Moreover, the gloves are ergonomic for both men and women.
Durable with Isolation pocket: These claw garden gloves are not for one-time use! Don't worry, this premium quality gloves are far away from tearing, ripping, or fading away. So, use these olive-green gloves to pair as much as you want. Also, gives an outstanding handling experience with an isolation pocket.
Price and Rating: How much to spend? Well, for these premium claw garden gloves, you need to spend 24.95$-29.95$ per pair. These USA-manufactured gloves have 4.3-star ratings from users all around.
So, check out these evergreens, durable claw garden gloves for the ultimate healthy gardening operation.
Boons
Banes

Available in any size for men and women
Saves the nails and claws are built in. No need to attach them.

Claws are available for the index, middle, and ring fingers on both hands. But no claw on the little and thumb finger.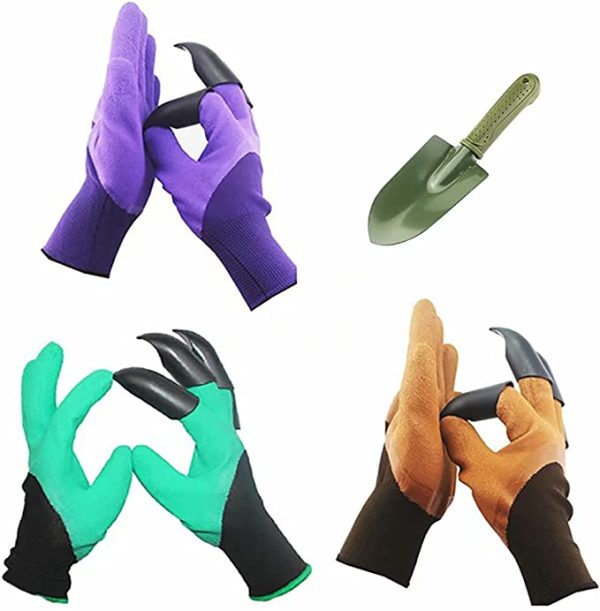 These multifunction claw garden gloves can be an easy choice for you. It is available in three colors and comes in a pair. Not only that, but you will also get a small garden shovel with this claw garden gloves set. What's more…
Four claws and Easy fabrication: There are four black claws to make your digging easy. Except for the thumb dinger, the rest of the fingers have claws. Not finished yet. These claws are made from ABS, high-quality plastic. The latex fabric made the claw gloves non-slippery and waterproof. So easy to catch up. Also, your wrist would experience the soft touch of breathable polyester. A nice flexible cuff.
Size and Uniformity: It has only one standard size for both women. So, you will wear a universal claw garden gloves size.
Season friendly: Due to the waterproof feature and breathable fabric, you can wear these claw garden gloves in any season. Summer, winter, and monsoon, you can have them in your garden bag. The nylon makes the back of the hand more protected.
Size and Specification of Gloves and Shovel: If we generalize the size, then these colorful claw garden gloves are 25 cm in length including the claws. On the other hand, the shovel is 25 cm long and 8 cm wide. The shovel is silver in color and has a rubber-grip handle and sharp functioning edge.
Are you thinking how much it costs? Well, "Garden Genie" Claw Garden gloves costs only 16.99$. So, be prepared to have them on your wish list.
Boons
Banes

Four claws available, weather-resistance garden gloves.
Plastic and rubber fabrication make them more elastic and durable

Only available in one universal size for both men and women. So, it would be difficult for some to adjust the size.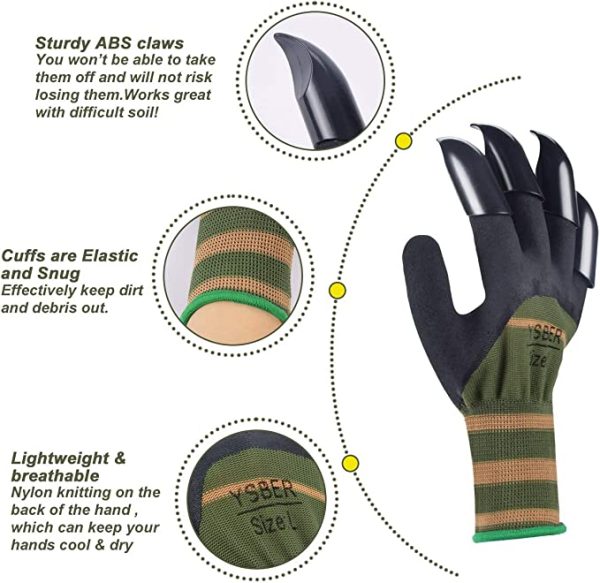 In one purchase, you will get five pairs of claw garden gloves! Want more details? See below…
Applicable for all and available in different sizes: The YSBER claw garden gloves are easy to use for both males and females. On the website, you will see a size chart to tap on the right size for you.
Healthy, non-fatigue fabrication: These claw garden gloves originated from the latest latex material. It's comfy and elastic. Moreover, the nylon knitted back part and cuffs are always keeping your hands away from dirt and keeps them secured. Moreover, the gloves are washable. So, long-lasting.
Multitasking Claw Garden gloves: These garden gloves do not support soil digging only. You can do the planting, plucking, raking, etc. with them. You have one pair of claw garden gloves and the rest of the four are normal gloves. Choose the right one according to your gardening operation.
Color combination and Weight: These are lightweight definitely. Only weighs 300 grams and is 9 inches long. The gloves have a black and army green color combination.
Rating and Reviews: The YSBER gloves have 4.3 ratings and 175 reviews almost. So, people are loving the service of these convenient, usable, durable claw garden gloves.
Boons
Banes

Supreme quality, washable, and five-in-one claw garden gloves
Makes weeding and planting easier and gives full coverage to the hand.

Sometimes the size and glove fittings are not of universal standard. Buyer needs to be careful.

Final Words
First, you need to how to choose the right gloves for gardeners. Whether you pick the Garden Genie, YESBER, or the Honey Badger claw garden gloves, you must know the purpose.
You must go for comfortable, weather-friendly, pocket-friendly garden gloves. So, check out the details of your favorite one. Grab all the details and then pack one for you. Of course, the claw garden gloves will make you happier with their claws. Sometimes, if you don't feel like digging the soil with any heavy tools, then just use the claw garden gloves. Remember, without making the hands dirty and nails unbroken!
Gardeners with the best claw garden gloves, garden tool bags, and other gardens useful will surely have the best garden out there. So, stay with Gardening's Core to flourish your Gardening skill.