Hello, my garden folks. Gardening is a joyous thing. You will never be offended by the results. if you follow the hacks and knowledge to grow, you are sure to boom in your garden.
Are you thinking that gardening makes your clothes messy, and hands coated with soil, so it would be a hard task to do? Then you are wrong. There are plenty of options to carry out in a garden.  You can have a garden combo set and a garden tool belt to make things easier. Likewise, we use the kitchen apron while cooking, you can surely wear a garden apron and garden tool belt for a cozy and comfortable gardening operation.
Why a gardener needs the garden tool belt?
Well, you will be more doable, comfy, and easy to roam around in the garden and work for it. It will make you remember all your tools. How? You will never forget about the tools if you wear a garden tool belt. There will be different pockets and sections for your tools. You will just wrap around that garden tool belt and get ready for digging. So, among the many thumb rules of greenery, you can count on wearing the garden tool belt. Why am I prioritizing about garden tool belt? Because it saves your cloth, and time and increases efficiency in gardening. But there are lots of garden tool belts available in the market and online. Lots of options make you confused to choose one.  Gardening's Core is here to help you. Here is the list of the best garden tool belts for your utmost gardening experience. Let's explore the garden tool belts with Gardening's Core best list.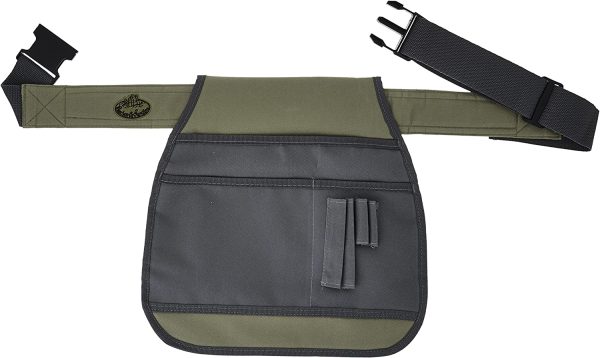 A nice, simple garden tool belt is the Esschert garden tool belt. The tool belt is not heavy at all, you can wrap this in your waist and carry the garden combo tools.
What's the length and width of this garden tool belt? It is 17 inches in length and 13 inches. An extremely flexible gardening tool belt to wear for your yard gardening. How much do you need to pay for the Esschert garden tool belt? It doesn't put a lot of pressure on your pocket. Only 13 bugs can give you this amazing product. The fabrication of this garden tool belt is from Canvas material. You can get two pockets one is 3″ 7/8 the other is 6″ 3/4 in this garden tool belt.
Can I wash this garden tool belt? Why not? It is easy to wash and has no extra lining. You can carry your pruner, weeder, and small transplanter easily in this. Not only that you can carry your phone as well.
Okay, can anybody wrap this garden tool belt? Yes, you can easily adjust this tool belt from 31 -53 inches.
A handy, sturdy, and large garden tool belt you can get in grey. However, What about the ratings of this product? It is a gardening product with 4.2 stars. Almost 57% of buyers are happy to use this gardening assistant because of the comfort, flexibility, least price, and easy maintenance.  Thinking to gift an Esschert garden tool belt as a gift? Well, it can save your back and money. It's a great idea to give a gardener/cultivator this kind of tool belt.
Pros
Cons

It is versatile, and convenient to carry all types of slim, sharp garden tools
Easily carry the phone in this garden tool belt.

The pouch area is somehow found stiff to many gardeners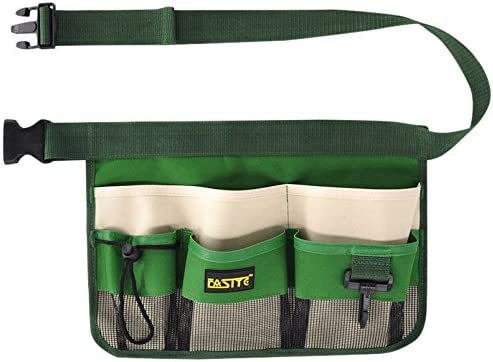 This gardening waist tool belt has got some useful features for you. You can buy this gardening tool belt with 13 bugs. Whether a complete green color gardening tool belt or a green reflective strap tool belt, both costs the same and has the same features.
Well, the fabrication of this garden tool belt is from 600D polyester. You can easily wrap it and wear it off during gardening time. There are enormous pockets to carry your useful garden tools. Around seven pockets and is spacious.
You can't complain about the pockets. The front pockets are netting and made with strong nylon material. Five normal pockets, three netting pockets at the front, and a hidden pocket at the back have amazing service. Can anyone wear this FASITE gardening tool belt? Yes, it is flexible. It can easily fasten and expand from 17 inches to 44 inches!
Where does it stand in terms of user ratings? It has a global 4.5 star and around 70% of the users whether gardeners, carpenters, or other workers are happy to use it. For summer gardening, it is the best. Due to the lightweight fabrication, it will not make you uncomfortable with the summer sweat. A perfect buy/gift for both male and female. What about holding your iOS or android? Don't worry FASITE gardening tool belt has waterproof pockets for you.
Pros
Cons

It has well-made pockets, organized and long-lasting.
There is a back pocket and an easy safety strip.

It might not have deep pockets and it is troublesome for gardeners.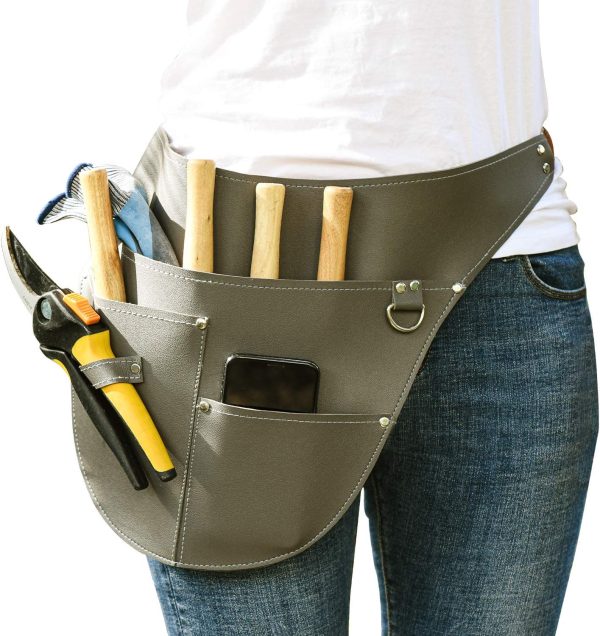 A leather fabricated gardening tool belt/apron with nice, flexible three side pockets. What's the dimension of this cool leather tool-holding belt? The length is around 13.8 inches, and the width is 9 inches. Commonly, this great tool belt comes in grey.
It has a long belt of 49 inches which can easily be moved and tightened in your waist. Due to the pure leather fabrication, there is no chance of short-term use, no water soaking, easy to wash.  A sharp, rusty weeder, pruner, transplanter, or scissor is easy to store and carry in this Holster gardening tool belt.
In the largest pocket, keep your gloves, and some sharp gardening tool combo, then in the front one you can keep your cell phone. There is a smallholder as well in the Holster tool belt. So, no drop-off. It is a multitasker tool belt for various professionals. The gardener, carpenter, and fixer can use this MYH tool belt.
However, what about the rating of this super cute gardening tool belt is 4 stars. And 332 people have on-and-off reviews about it. Mostly talking about its good sides by the way. It reminds the ancient leather costumes for war. So, in this way you are also holding your garden weapons. Can any woman wear this Holster belt? Why not? Almost 40 inches of expansion is possible.
A beginner or an experienced gardener can find this Holster tool belt very convenient. You can hold your cell phone, seed packets, shears, and whatnot. So, it would be a perfect purchase for any male, female, or teen to start a garden patio.
Pros
Cons

easy roomy pockets with great safety
Flexible back belt

Sometimes the belt is stiff and sometimes the buckle way is not pleasing for everyone.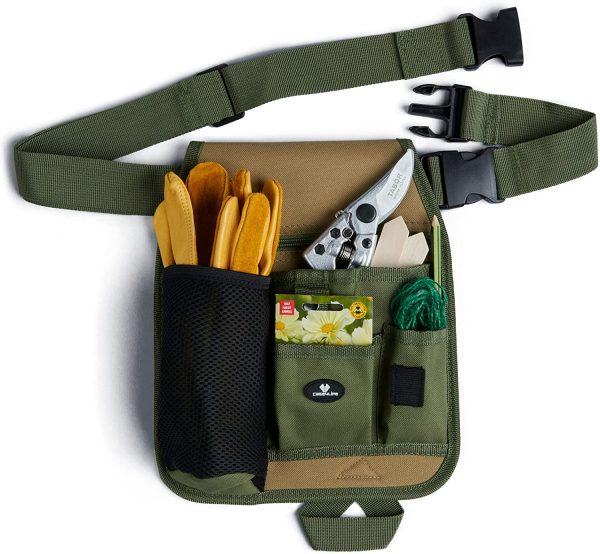 This is again a canvas-fabricated gardening tool belt. Wrap the Case4life gardening tool belt around your waist and feel easy to work with it. What about the pocket feature? Well, it has several pockets to arrange your gardening tool set. 5 pouches reside in your handy gardening tools, and at the back of these pockets, there is a large zipped pocket. In this zip pocket, you easily place your phone, money/cards. Among the five pouches, there is a mesh pocket, hammer holder, and other three spacious pockets.
The flexible Case4life gardening tool belt with multipurpose features is convenient for both boys and girls. You can find this garden tool belt as your helping hand year after year. Due to the fine manufacturing, material, it is sturdy and lasts longer.
What sorts of garden tools to carry in the Case4life garden tool belt? You can easily carry any garden accessories from a sharp pruner, and weeder to packet seeds. All is easy with the Case4life garden tool belt.
What about the ratings? Well, this is a top-notch garden tool belt that got 4.5 ratings, and 68% of users are considering it" just the thing".
However, you can gift this garden tool belt to anyone of any size. Why? Because there is an extender for larger people. So, no need to worry about fixing it.
Pros
Cons

Handy, washable, perfect gardening bag
Holds everything and easily fastens.

The belt can drag down due to the tool's weight. Sometimes the belt pops open and creates a mess for busy users.

Summary
Of course, whenever, you plan to spend some time in your garden, you will need a garden tool combo set. Some tools come with a tool bag and some tools are a single piece. So, to carry those tools together, you can't skip the use of a garden tool belt in a way.
A handy, easy tie-up and feathery garden tool belt are exactly what you need. However, the adjustable, 13$ pricing garden tool belt Esschert and FASITE are good choices. Both are canvas material and smooth to work with. Again, the leather MYH garden tool belt is also ready to give a safe, flexible tool-carrying experience. Lastly, Case4life is also a handy tools belt with more pockets.
Finally, you should know your purpose for gardening and your way of carrying that garden tool belt. So, a great purchase can only happen when you plan to buy the best for you. Know your preferences first then wrap the garden tool belt on the waist and begin with gardening.
Stay tuned with Gardening's Core to grab more knowledge about gardening, gardening accessories, the best gardening tools, products, reviews, and beyond.