To make a house, we need many tools like brick, cement, hammers, and whatnot. Likewise, behind the beautiful blooming garden, there is much stuff to be used. It is not like having a space or containers, or seeds, and you are off to go with gardening. To make the finest bloom, you need a bunch of staff. So, if you are a beginner or even an experienced gardener and check the garden tool bag with me again.
From this read, you can enlist the essential garden tool and some amazing garden tool bags from various brands. Take a look at the garden tool bag options for you. So, let's get started.
What are the basic components of a garden tool bag?
You can't only rely on your good potting mix, garden bed, or best seedlings to make the best garden. Gardening tools make your garden experience a better one. Of course, digging your hand in the garden soil is the best. But garden tools can be faster than your hands. For example, you need to transfer a portion of soil into a raised bed garden. You can easily use the shovel or spade to do that. What about watering? The watering can for gardens or pots makes your task easier.
What should your garden tool bag have? Gloves, hoes, watering can, rake, hoe, spades, fork, hose, secateurs, hand trowels, and many more. Let's see their application one by one.
You can have different types of water cans for any garden purpose. There is a plastic, metal garden watering can. Whatever, the garden size is you will need plenty of water. Using plastic watering can be easier to carry and move. The house is a quick solution to make your watering plan in the garden beds. Long pipes can be easy to move and shower the plants with maximum water.
A thin or a strong hoe, whatever it is but you will need one for your outdoor garden. Within no time, your garden can have a lot of weeds, then you need to remove them immediately from your garden… A strong wooden handle hoe with a metal blade at the head is always a desirable one in your garden tool bag.
This is needed to dig your soil and make them finer. When your soil is compact, use the teeth of a rake to give them a move and make it fine, loose soil. Then sow the seeds.
Well, the fork is also of a similar purpose as the rake. It can break down the cake, and Stoney soil and make it available for use. The basic difference between the rake and fork you will find in a garden tool bag is the rake is more angled than the fork. The fork is plain.
Well, it is an essential one and first thing to own. To save your hands and to make the best use of your hands you need gloves. You can find woolen, synthetic gloves in a garden tool bag.
So, not owning a garden tool bag is not a good sign of a good gardener. It's a shortcoming if you don't have a garden tool bag and efficient tools inside it. To bring the best color of your labor, go for a garden tool bag.
The Best Garden Tool Bags to Own
Now that you know how efficient the garden tool bags are, then let's unveil some of the best garden tool bags/combo sets for you. See the details of the best garden sets one by one.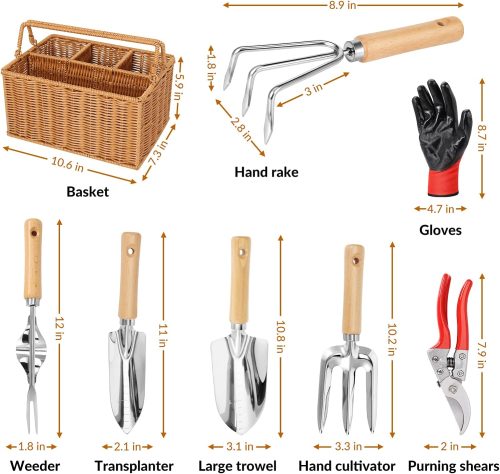 Each tool is made of stainless steel, and the handles are mostly wooden and polished. Once you own this set, you will have a new sort of experience of gardening as a hobby or even as a profession. Why is it so? The tools are waterproof, strong, and resistant.
Again, you get a chic and wonderful large basket as an organizer of your tools. There is a total of eight tools including the basket. Main garden operating tools are pruning shears, rakes, trowels, hand cultivators, weeders, gloves, and transplanters.
Why it has 4.7 stars and most of the positive reviews? Because this SOLIGT garden tool bag/basket is a cheapo, ergonomic, and durable product. Each tool is handy to use and sharp. You can gift this toolset to anyone passionate about gardening.
You can easily clean this portable organizer as well as the tools. It makes your garden grow in a fun way. Who doesn't love to work with smooth tools? The tools are available in different color like red, brown.
Prospects
Impediments

Lightweight, handy, ergonomic, efficient.
Not rusty, tools are stainless
Easy to carry with the basket

Though the organizer is cute and handy but maybe a bit small and so as the tools.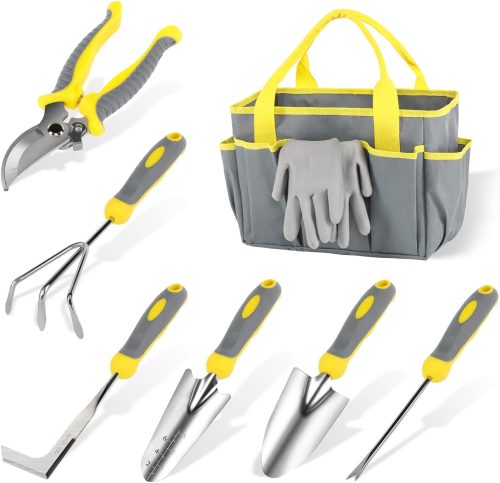 This is a yellow, ash-themed garden tool bag. You will have eight pieces of goodie tools inside it. There is a tote storage bag that makes your tools storing and organizing easier.  What does the ipower garden tool bag consist of? It has a stainless hand rake, trowels, hand rake, weeding knife, pruner, transplanter, cozy gloves, and a small weeder.
Are you thinking of the price? Then this ipower garden tool combo set has different price ranges according to the pieces of garden tools. If you have 25$ you can own eight pieces of ipower garden tool set easily. Then if you invest more like 60$, you will have 10-11 garden combo tools.
You will have a good grip over the tools due to rubber-made ends. These are ergonomic, non-slippery, and not heavy as well. The tote bag is made of polyester material so it's a lasting one if you take great care of it.
What about the Amazon rating well it has 3.8 stars and around 50% of people gave this ipower garden tool set a 5 star.  The weeding knives and pruners are efficient why so? Because the pruner has got a safe lock, large diameter range. Then weeding knife can remove the weeds from a paving gap and loose soil as well.
So, a great gift for all the gardener relatives, easy to carry, handle and maintain is iPower garden tool bag.
Prospects
Impediments

Rubber-made, durable end at all the tools, sharp and resistant
The tote bag has number of pockets to store the tools

The price range can be bit confusing. Sometimes few tools cost more bugs in an iPower garden tool bag set.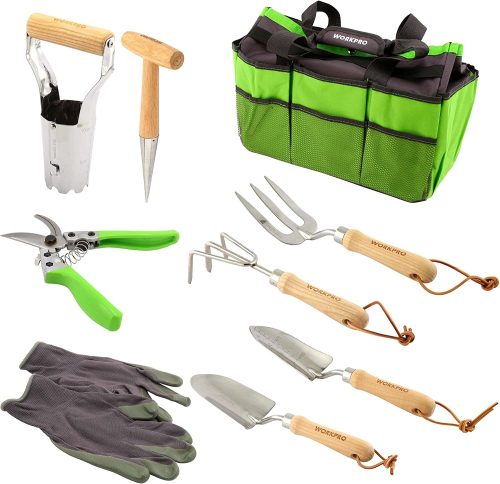 A trendy and ready-to-use garden tool bag. What can you find in this 9-piece garden tool bag? There are trowels, transplanters, sow dippers, small forks, rakes, pruning shears, tote green color storage bag. All these garden tool costs around 50 bugs.
Guess what? These tools are stainless with wooden hand and hanging holes as well. So, it is easy to hang if you forget the storage bags anywhere. Pruning shears have an SK5 blade. Worried about the rust on the garden tools? There is no chance of rust because these tools are made of stainless steel.  If you pick the gloves, then these are made of woolen and fit well in the hand. The WORKPRO garden tool bag is very much convenient because the storage bag has a large portion at the center. There are three mesh pouches at the front part of the tote bag. The other outer pouches carry the tools and the shoulder straps are comfortable.
So woolen gloves, and rigid, stainless tools with a large storing bag make your gardening easy, less labor, beautiful and trendy. Do you want to know the rating? Then it has a 3.5-star rating globally…
Prospects
Impediments

Ready-to-use garden tool combo set with hanging holes.
The carrying and storing bag has many pouches.

Mainly promoted to use in outdoor gardens.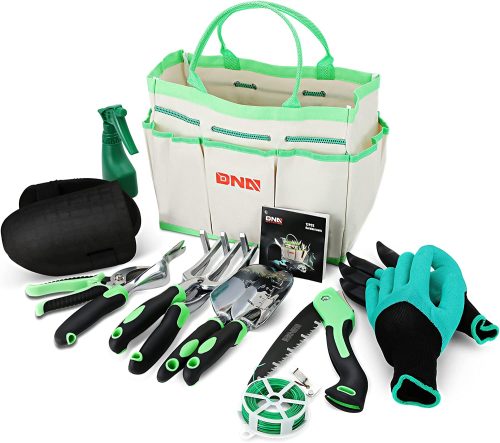 This garden tool bag has many bright sides. Storing bag is large and has several pouches.  Moreover, the carrying straps are handy, not slippery and of course waterproof.
So, a lot about the storage garden bag. What about the dozen tools? The DNA Monitoring Garden tool bag has a variety of price ranges according to the pieces of tools. A tiny green watering spray can, gloves, handing rake, pruner, trowel, cultivators, weeder, folding saw, kneeing pad, binding etc. The product is available in different colors with an affordable number of tools.
In general, the DNA Monitoring Garden tool bag includes stainless tools which are small and handy to use. The size of these tools is 7-12 inches usually.
Prospects
Impediments

Easy, large, waterproof tote bag with handy carrying straps.
DNA Monitoring Garden tool has a wide range of price variety and number of garden tools.

The product is a bit weight around 1.5 kg.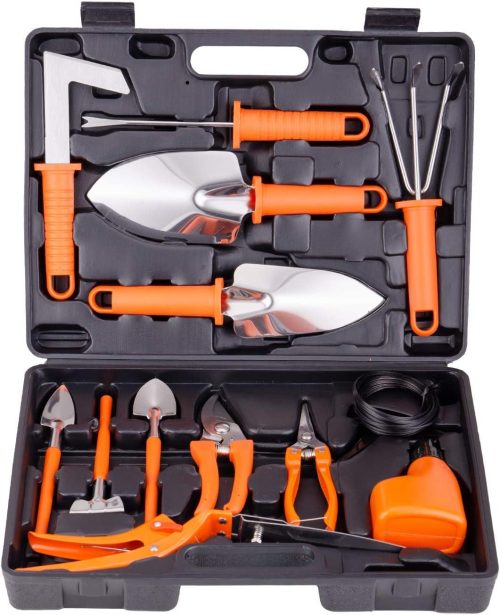 What's new in the gardening tool story? Well, the BNCHI garden tool set has thirteen pieces of tools. However, the tool set comes with a carrying suitcase. This carrying and storing plastic bag has a specific section for each of the garden tools. So, you can store and perfectly organize the garden tools.
What about these thirteen tools? They are all stainless and have ergonomic handling. You can have an easy grip with the rubber ends and the tools are sharps. The tools are usually- wire, fork, pruning, transplanter, weeder, shovels, spray bottle etc. All thirteen garden tools are arranged by the double part storing plastic tool bag. It's like a gardening, efficient suitcase with all the essential tools.
However, this product is lightweight around 2.1 pounds, and you can give this affordable garden toolbox as a gift as well. So, you will never regret using this garden toolbox. The tools are very convenient for your indoor and outdoor garden use. BNCH tools do not make your hands fatigued. It is a great accessory for your garden and is premium in quality.
Do you know the ratings of the BNCHI garden tool set? Almost 60% of the people gave it a 5-star rating. So, the overall rating is 4.3.
Prospects
Impediments

Nice large storage plastic gardening box with each tool slot
Affordable, durable and got enough tools for the expert gardener

Sometimes these stainless-steel tools are thin, and the clippers can fell off after a summer.

End thoughts
So, now you don't have to always mess your hands to get your garden the best version. You can wear a glove, can't you? And within one garden tool bag/box you own plenty of tools that make your gardening experience a better and more effective one. So, don't be late. The Spring is knocking at the door. Get ready with your weapon. Check out the above gardening tool combo set, and you can give the tool as a gift to your beloved one. What are waiting for? Check out the gardening tools and get a great garden tool kit.
Turn your garden into a blooming one.