How to Grow Red Amaranth Indoor
A super food grain by a flowering plant is red amaranth. This is an ornamental plant, and for many years, people have been cultivating it as a food source. Red amaranth has lots of varieties and food nutrients in it.
So, whenever we think of some food-growing plants, we think they can be grown only in garden beds or raised beds. Let's break this dilemma. You can grow red amaranth indoor, pupil. Take a look at the amazing planting guide, for growing and cultivating the amaranths indoors. Are you ready to enjoy the amaranth leaves? Here we go.
What is Red Amaranth and why it's popular as food?
A long time ago, this flowering plant became a foremost food source for the Native and Central Americans. You can call it blood amaranth, red amaranth, and many other significant names. Among its great history, the Aztec cultivated the red amaranth around 6k-8k years ago. So, it's an ancient plant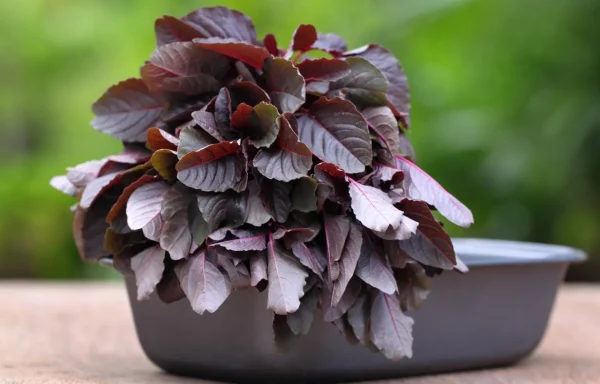 It has a big tag as healthy food. But why is it so? Because red amaranth has dietary fibers, proteins, copper, amino acids, phosphorus, potassium, and so on. It means it is a box of nutrients, isn't it? People call it phytomedicine and nutritious vegetable plants. This is a finding from the National Library of Medicine. However, this foodie plant is also on the list of fast-growing. So, gardeners love this leafy plant.
So, red amaranth is quite popular as a food plant throughout the world in Africa, America, Southeast Asia and other tropical countries as well. Growing red amaranths indoors in which USDA zone? In all USDA zones, the red amaranths grow well. So, it's an easy-growing plant.
When all the leafy veggies grow well in winter, the red amaranths love the warm and hot weather to grow. Red amaranths seed love to sprout in the early spring and fall season. The cool season is not for them. Mostly in South Asian countries, the red amaranths also grow well in the winter. You can see red amaranths and green amaranths as well. But today, we are focusing on the red amaranths.
However, the red amaranth from the seed to the table is a fantastic journey and the result from this leafy vegetable is something you will love. The ancient Greek name amaranth means the eternal flower. Finally, red amaranths are popular for making delicious dishes and the grains allow flour and pasta manufactured for high nutrient value, which is gluten-free. So, a lovely and multi-tasking veggie plant is red amaranth. Each and every part of this plant is edible.
Moving on to the plant description- this typical red-colored leaves plant can grow up to 150-200cm tall. If we focus on the leaves, it has hairy edges and mostly oval-shaped broad leaves. Red amaranths are annual species. There are 60-70 species available as an amaranth variety. In the USA, the common varieties are the redroot pigweed, tumble pigweed, green round leaf, white pigweed,
Grow Red Amaranths Indoor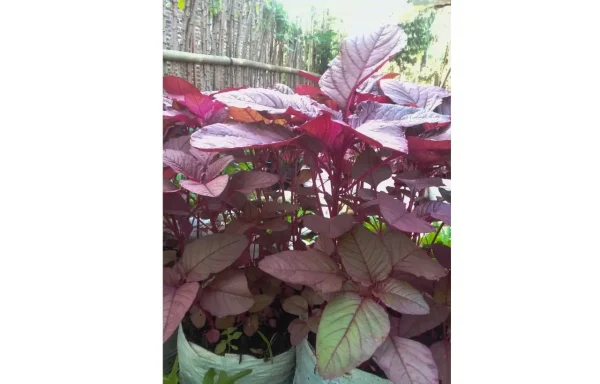 Though it's an easy-growing plant, you need to have some minimum set-up to grow them. Of course, for a food plant the requirements needed to be maintained in such a manner that the plants will give you a good number of harvests. So, let's count on what are necessaries to grow red amaranth indoors.
Soil: The first and foremost component for any plant to grow. Thus the red amaranths need well-drained, airy soil in the indoor potting mix. For the potting mix- peat moss, potting compost and perlite each in 30% amount. This potting mix works well for the red amaranth plants. Slight acidic soil from 6.5-7.5 is okay. So, this soil mix is best for seedling germination as well.
Temperature and humidity: So, the growing temperature for the lovelies bleeding/ velvet curtain, these are another name for red amaranth is 20-25 ° It will not grow well below 15-16 °C. In case of humidity, red amaranths love to grow in 80-90% humidity.
Location: It's a sun-loving flowering plant that not only adds nutritious value but also gives a red/ purple vibe in your indoor potting. But if you grow red amaranth indoors then the sunny to moderately sunny places are best for them. Allow, 6-8 hours of sunlight for optimum growth.
Fertilizer: In the potting mix, you can add fertilizer. But to grow red amaranth indoors doesn't need a bulk of fertilizer. These leafy veggie plants can grow with small amount of soil nutrient, a self-sufficient plant. You can add blood and bone, chicken manure to the potting mix for nitrogen content.
Sowing the seeds: Mix the seeds with compost before sowing. Then gently sow the seeds into the indoor potting mix. Place the seeds one to two inches deep into the potting mix and let them sprout. You can sow the black seeds from your last season crop/ collect the seeds from any garden center. Even transplanting seedlings into the container is also a good idea. You can harvest the red amaranth plants within 3-4 weeks after sowing seeds.
Potting Size: The red amaranth plants have long roots, so the indoor pot/ container size should be wide and long. Usually, 5 inches or 1 ft deep pot is preferable. And the container should be wide enough, 30-50 cm wide, so that many plants can grow easily. In a small pot the plants will overshadow each other.
Watering guide: The plant doesn't love watery soil. So, water the plants 1-2 days in interval. But it is necessary to water the potting mix after sowing the seeds. Porous soil is best to grow red amaranth indoor. July-August is the best season to grow red amaranth indoors.
Pruning: Growing red amaranths indoors requires pruning. The pruning time depends on the amaranth variety. But you can expect more leaves and seed pods from the plant if you go for pruning. So, cutting and pruning is super easy to grow more amaranths.
Collecting Seeds and fighting the pests
The red amaranth plant can give you the seeds at the end of the summer.  The seed stock will come out from the side stems or directly from the top of the plant. There are two types of seeds black and white.  So, before winter comes, you should collect the seeds and store them.
Slugs, other pests like stem weevils, bugs, and root rot are some problems with the red amaranths Mostly, the red amaranth in the garden bed face such problems. Slugs eat the young leaves, so you can't enjoy the broad leaves for eating. Even in the potting mix, the diseases like root rotting can appear due to over-watering. Fungal diseases can also invade your velvety red amaranths.
So, make sure to grow red amaranth indoor receive right amount of air, sun and do not get excess water that hinders its growth.
FAQ
Let's look at some mostly asked questions regarding how to grow red amaranth indoors.
Can amaranth be grown indoors?
Yes. Though it's a leafy veggie, not an indoor plant you can grow the red amaranth indoors in the shade places or on your balcony place for better growth. But keep in mind the seeds should be sowed before the last frost and there should be sunlight enough for the plant growth.
Can you grow amaranths from cutting?
Why not? These veggie plants are easy to grow. So, if you have a cut of red amaranth, plant the cut stems to two-three inches deep in a potting mix and take care of them until the roots grow. And within a week you will see the new roots.
How many edible leaves per plant?
You can hope to have 15-16 ounces of broad edible leaves from each red amaranth plant. And enjoy these edible leaves immediately.
Conclusion
It is a great feeling to harvest your food. We all dream of a garden that can give us plenty amount of happy bloom and harvest. But sometimes, you cannot have that place. In these cases, indoor plants save our wishes.
Red amaranth is such a kind that grows well in a pot in an indoor ambiance. You just need the bright up sun and the right humidity to harvest them. Hence, growing red amaranth is not a big challenge. You can grow red, popping amaranth plants indoors and enjoy a quick, delicious meal!