We all know roses and chrysanthemums are symbolic flowers. Only a few people don't love the smell of a flower or deny growing flowers in the garden. Garden blooms can keep your mind fresh and inspire you in your daily life. There are many symbolic and iconic flowers over the world.
Did you hear about the beautiful blue scorpion grasses? Why not? It's a native flower of the Western Hemisphere or simply the Americas. These flowers can make raisin jewelry and works as a symbol in gift wraps.
Welcoming you all to the Gardening score once again, and today your exploration with scorpion flowers will be superb and worthy. You can explore scorpion grasses, their growing season, nurturing techniques, and more from this read. Can you grow these flowers? Of course. Let's begin.
Tale of Scorpion Grasses
Small, blue petals with a tiny yellow spot in the middle are a visual description of this flower. Scorpion flowers have two famous names. One is "Forget-me-not," and the other is "Myosotis."
Well, both names have a history behind them and valid reasons. Why does it call Forget-me-not?
Because once a German knight fought to collect these pretty flowers for his beloved but died. And his last murmur was" Forget-me-not." Since then, we call the Scorpion grasses 'forget me not.' What does the "forget- me -not" symbolize? It is a token of remembrance and immense love.
Again another name is Myosotis because of the flower shape. And guess what? The Greeks compared the flower shape with the tiny-shiny mouse ears. And the other name for Scorpion grasses became Myosotis.
Well, Scorpion flowers have a beautiful tale and names. Where do the Scorpion grasses grow? Its first tale started in Ancient Greek, and then it became much more popular in the French, German, Europe, West Asia, and North America, Southern Canada. All in all, the tale started in the 18th Century and thriving till now. Delicacy, serenity, and availability of the Scorpion flower make it a Top-Flight flower.
Overview of Nature
Soft, delicate Scorpion flowers are perennial/ annual flowers that belong to the Borage flower family. The flower has notable characteristics those are the following:
Small, woody flower species with great ground cover
The flower stems are branched and look like a natural flower bouquet.
If you consider the height of the Scorpion grasses plant, it can be 7 inches long from the ground.
The Leaves are elliptic in shape and most cases, only 2 cm long. Hairs are found everywhere in leaves and stems.
Stems of the sparkling, blue Scorpion flower is hairy, sometimes glossy and got a nice green color.
In the case of habitat, these flowers love shady places, woodland gardens, and bog gardens.
The flower planting season will be summer to winter. And blooming time is summer and late spring.
 Other colors can be pink.
In USDA hardiness zone 3-9, these flowers grow well. The temperature range can be cold to hot temperature in these zones.
"Forget-Me-Not" a wonderful Garden Flower
Low-cost maintenance, bedding flowers can absolutely give you plenty of flowers all year round. It is a border garden flower and versatile. You can plant them in the spring with daffodils, tulips and primroses as a side flower. But do not overcrowd. Another thing, pollinators like bees and birds are easily attracted by the scorpion grasses. So, these garden flowers do not require high maintenance but give you delicate blossoms.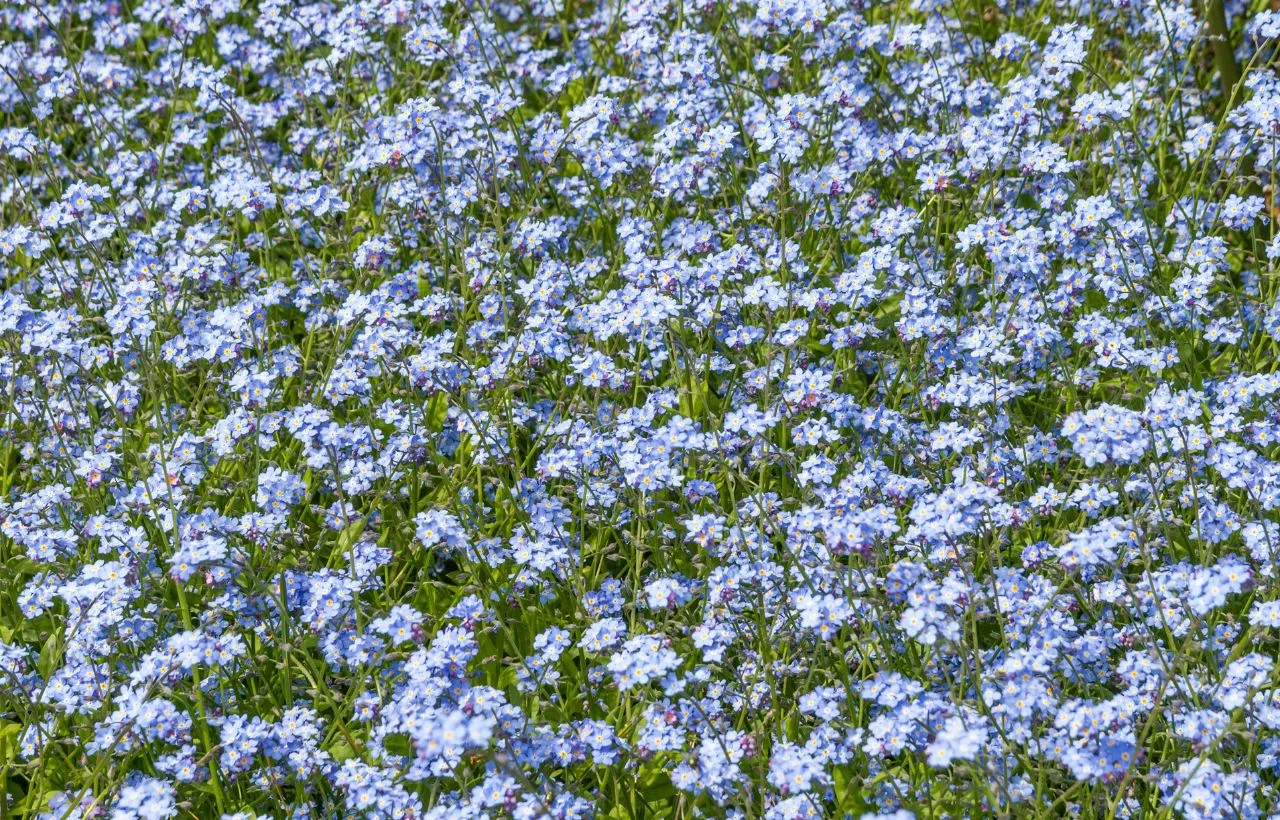 But, remember one thing. These flowers are wildflowers and grow easily with optimum conditions and propagate hereafter. Cut off the dead blooms to hinder seed dispersion. Or you can divide up the flowers in the summer or spring.
In many parts of the States, the "Forget-Me-Not" flower is an invasive species. So, people are bound not to plant it in any way.
What makes the Scorpion Grasses special?
Scorpion grasses are beneficial to your health in both medical, dietary ways and decoration. These are the following:
Medical Benefit: Scorpion flowers are not the only flowers to have in your home garden and watch around. These flowers bear significant medical uses. Are you kidding me? Little, shiny scorpion plants can treat your illness in many ways. Are you feeling eczema or itching? Make tea with the scorpion flowers and spray it on your itching. It can treat cough, help you to lose weight, and whatnot.
Edible flower: Are Scorpion grasses poisonous? No way. It is an edible flower and plant. You can make a strong tea, garnish your salad, or place the flower at the top of the cake. One can use Scorpion juice as a sugar substitute. Sometimes it can help to reduce lung diseases as well.
Decorative purpose: forget-me-nots are non-fragrant flowers. But they are decorative in the memorial gardens, cutting gardens, and cottage gardens. And the flowers can stay healthy for up to 1 week. Generally, it has a vase life of 5-7 days. So, you can use them in any way.
So, it's a multi-purpose flower. All the goodness and health benefits, the blue color vibe can help you in this way or other.
How to plant Scorpions on the garden bed?
If you want to have to forget me not in the garden, then you can buy seeds of these flowers from any nearby garden center. Sow the Scorpion seeds in a succession pattern if you want. Like with 2-3 weeks intervals, you will put all the flower seeds into the garden bed. Or you can put the whole seed packet at a proper distance. These flowers love the shade. So, 4-6 hours of sunlight is perfect for them.
. In the case of the summer, zone 8 can be pretty hot, and the plants love the shade, so they can even die at high temperatures. In the northern climate, you can sow the seed of a Scorpion in the spring season. September and October can work well for zone 6. So, the temperature varies with each zone, and the variation affects the Scorpion blooms and sustainability.
However, you can grow your Scorpion from cuttings and seeds. The seed germination rate of the Scorpion grasses is almost 70%. You can germinate in the garden bed and even go for the winter indoor seed germination. But outdoor germination is preferable.
So, in this way, you can hope to have a nice blue bloom.
Extra care towards Forget- me –Not Flowers
Let your Scorpion grass speak out its heart. Because of any flowers, you need to provide them with their natural growing conditions.
Soil type: It loves moist soil and the high humidity of nature. But it doesn't love soggy soil. Flowers can grow well in any soil texture from clay-loamy-sandy. So, don't bother. But Scorpions may love salty/alkaline soil. Usually, the pH ranges from 6-7. Well-drainage of soil is all you need.
Watering: Water can be a major one. Do not overwater. The high amount of water will encourage foliage growth. But you will not see any flowers.
Fertilizer: As we know, it is a low-cost flowering plant, so you don't need a bulk of fertilizer. Natural fertilizers like leaf manure and organic matter can boost up the Scorpion flowering.
FAQ
So, let's see what your brain picks up at growing the scorpion grasses. Here are the FAQs
What are the common diseases of Scorpion flowers?
Powdery mildew, due to overwatering can happen. Aphids, foliage wilting, and other diseases are prime for the myosotis flowers.
Are forgetting me not easy to grow?
Of course, they are low-cost, high-blossom flowers. You can plant them in any cold place, watering once/ twice a week and wait for the bloom. None of the flowers are as simple as growing like the scorpion grasses.
Why are forget me not flowers invasive?
Invasive species are those that degrade the natural biodiversity of their surrounding. The forget-me-nots are of the same kind. Due to over-blossom, they can alter the soil type and even the surrounding native flowers.
Should I deadhead my forget me not?
The Scorpion grasses grow and disperse seeds in a quick manner. So, if you don't want a specific location with Scorpion blossom, deadhead the flowers immediately before they turn into seeds.
Are forget me not toxic to dogs?
A useful and interesting question because many home gardeners have pet dogs. This ornamental plant is not toxic and edible. It is not harmful to the dog's digestion, but one might use the flowers in any food in a low amount.
Conclusion
Forget-me-not flowers have popularity because it's available and easy to nurture. It loves shade, well-drainage, and a basket of organic matter to grow and thrive. And yes, you are ready to enjoy the blue and pink tiny flowers in your spring garden. So, following the above steps will facilitate you to bloom the Scorpion grasses and enjoy them.
Flower folk, get ready to have a Scorpion heyday in your garden.