You need to use some organic compost in your garden that will work as a natural garden mulch. That means looking for a mulch to add extra nutrients to the soil and prevent weeds. Sugar cane mulch is a great way to make the soil healthier. The other cannot do the job much better than that.
Don't know exactly about the sugar cane mulch, right? Well, I'm here to inform you of everything you need to know. If you are a new gardener, you should know the details and start working. I guarantee you can know everything from here and find an interesting thing to grow your garden finely. So let's quickly get to know the details.
Sugar Cane Mulch: A Short Overview
Basically, sugarcane mulch is an organic matter which is absorbed with soil and keeps a great role in growing plants nicely. It is already fully prepared in package stuff. Mulch Productions manufactures this package by processing sugarcane leaves and tops. Leaf material is stocked at the factory and the bulk sugar cane mulch is delivered in packets after making. You are getting a ready-made product for use in the garden in your local area.
It is a top-rated great way for making your plants healthier. You can use it in potted plants also. The two inches layer thickness of this straw makes the soil moisture and perfect nutrient for growing plants finely. This straw method allows the evaporation of water in the soil by 70%.
Pricing Guide
A gardener should have a great concept about the importance of mulch as well as its cost. But do you have any idea about the cheapest price of sugar cane mulch? This depends on the amount of mulch you want to buy. By following my pricing guide you can know the charge details that you need to buy. Here I present a pricing table that gives you a clear idea about the range.
| | | |
| --- | --- | --- |
| Range | Cubic Yard | Per Bag/Per Hour |
| Material | $17 – $68 | $2 – $5.50 (Per bag) |
| Labor | $20 – $45 | $40 – $98 (Per hour) |
| Material & Labor | $37 – $113 | — |
Installation cost:
It will be needed when you want to install it by labour professional. It costs $20 – $45 per cubic yard. You may have to pay it per hour. And then it would be $43 – $98 per hour. You can avoid the charge of installation if you do it in a DIY process. Don't worry it's simple to apply. Just buy the ready product from near you and lay it out 2 inches or 5 cm thick in your garden.
Delivery Fees:
It depends on your area's distance from the supplier. It will be $45 to $135 on average. But this cost does not have to be incurred if you are located near the supplier's area.
The pros and cons of sugar cane mulch
The sugarcane straw is the best option for your favourite yard. You should know everything about the good or bad side before applying on your ground. Here are the merits and demerits of the mulch:
9 Merits Of Sugar Cane Mulch
This mulching process is more efficient and simple to use. This straw carpet system is like a magic garden bed for your plants. In order of importance, the following benefits are listed:
This is a 100% certified top-rated product.
It's totally an organic matter.
It is the best for soil nutrients and moisture.
It controls weed protection. It is the most important role.
You will get it available near your market.
It doesn't need to use any other mulch or fertilizer.
Protects soil from the scorching heat of the sun.
Allows evaporation of water in the soil
Easy to apply than other
5 Demerits Of Sugar Cane Mulch
Along with the many advantages, there is also some sugar cane mulch problems that should be aware of:
It can be difficult to verify original products in the market.
Straws are likely to blow away in excess of wind.
This will create chaos in your land.
Frequently replacements may be necessary for various reasons.
The beauty of the garden may be somewhat distorted.
Related Questions About Sugar Cane Mulch
What are the benefits of sugar cane mulch?
It is good for a garden for growing plants healthily and protects the soil from weeds. It helps to prevent the dryness of the soil. 100% organic sugarcane straw is the best option to add nutrition to the soil. The layout helps to protect the root of the plant from the higher heat of the sun.
You might think it is too difficult to use. But if you buy and use the market product then know that it is fully manufactured. You should spread 2 inches on your ground. Its role is great for the overall health of your garden. That's why it's surely good for your piece of land as a mulch.
Can Sugarcane Be Used As Mulch?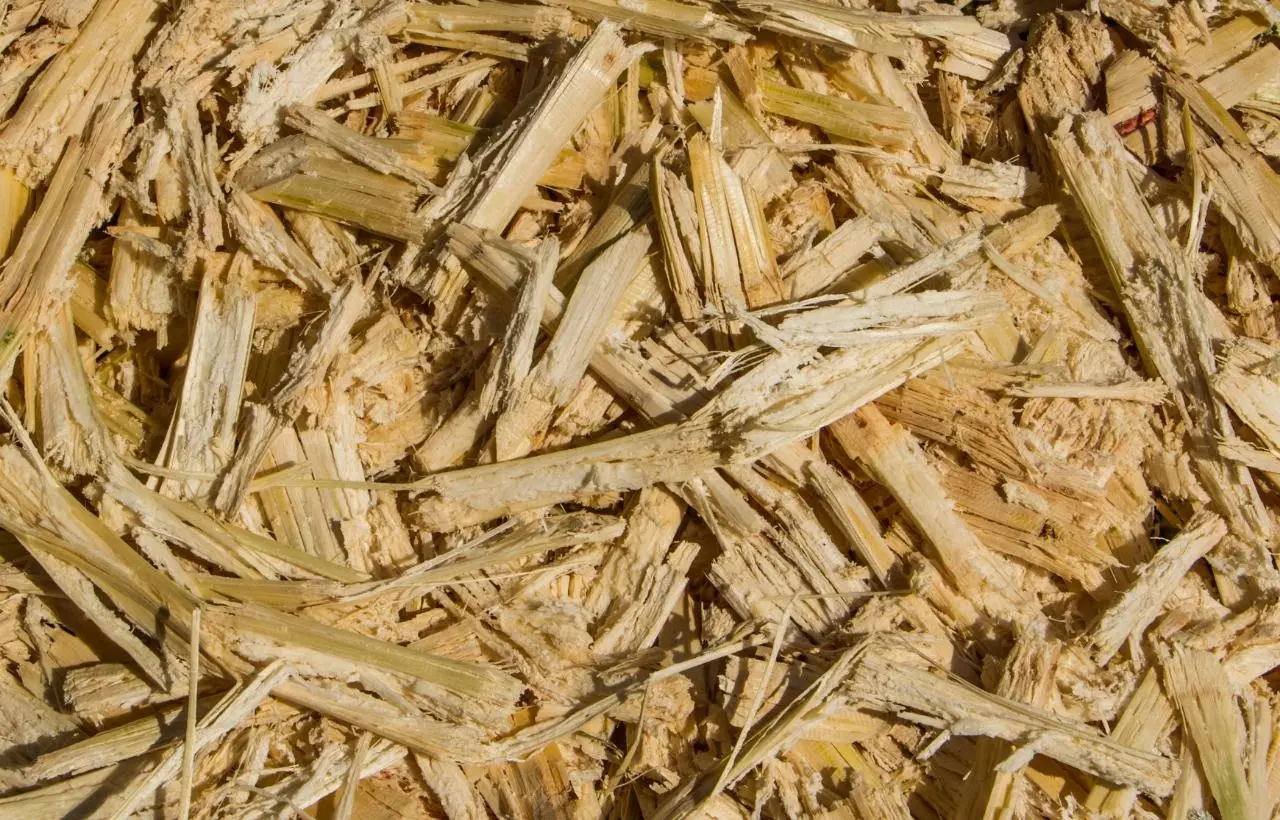 Of course, it can be used as mulch. It is the best and top-rated 100% organic mulch among others. For working as a weed suppressor and soil moisturizer, it is superior to all other compost. The elements initially present in the soil may not always be sufficient for plants.
In this case, some extra material needs to be added to the soil. That's when you can feel the importance of mulch. And if you want it organic, you have no way to choose it. But this straw is made of sugarcane. It is suitable for everything from your vegetable seedlings to fruit trees.
Can You Put Sugar Cane Mulch In Your Compost Bin?
You can put sugar cane mulch in your compost bin. This is a great DYE process for it. You can put it in a bin and make compost. Put an empty bin in your kitchen so that you can use the rest of the sugar cane. Also, put the pea straw in the bin with it. Then after some days, it would be a great fertilizer that is enough for use as mulch. Compared to other methods, it is more effective.
What Nutrients Are In Sugar Cane Mulch?
This nutrition is made from the sugar cane dry leaves and tops. It is used as a clean mulch straw. You can get low levels of calcium, magnesium, phosphorus, potassium, nitrogen, etc. This package of vitamins is able to make the soil healthier. That's why the plants will be growing finely.
It adds extra organic matter to your yard and creates powerful food for plants. The amount of nutrients it contains is sufficient; you will not find these available in other mulches. If a natural product protects your plants, that's what you should use. Its nutritional richness will give you great results.
Is Sugar Cane Mulch Safe To Use?
It's an organic way of mulching. The nutrition needed to grow your plants are available in this. You can nicely use it in your home garden and your potted plants also. It is used as the most effective nutrient for your soil. That's why it is surely safe to use for your lovely plants.
This nutrition is made from the sugar cane dry leaves and tops. You can get low levels of calcium, magnesium, phosphorus, potassium, nitrogen, etc. These elements are able to make the soil healthier. There are no chemicals, no medicine, or anything that would be harmful to trees.
Does Sugarcane Mulch Attract Termites?
No, it doesn't attract termites. Termites are such types of insects that they do not affect any dry things. It is basically a type of dry mulch. Other mulches tend to attack termites because they are not dry enough. Such as wood mulch. So this mulch is organic as well as beneficial in all aspects. You can be absolutely sure of this too.
Do Worms Like Sugar Cane Mulch?
Worms are fond of sugar cane mulch. You can find it in the mulch in the basket. Worms can survive quite comfortably on sweet foods. Worms have many soil needs that you as a gardener are sure to know all too well.
These organisms increase soil fertility by loosening the soil. And because of sugar, their appearance is more common. After a few days of applying mulch to your ground, you can dig up the soil and check it. You will see that the Orms are already engaged in soil fertility.
Is Sugar Cane Mulch Organic?
The best feature of this straw is that it is made with 100% organic matter. It is made with the rest dry of sugarcane leaves and tops. It contains low levels of elements like potassium, magnesium, calcium, nitrogen, etc. They absorb with the soil and make healthy growth. So, you can use it on your piece of land as an organic fertilizer without any hesitation.
Final Thought
Finally, I believe that after considering all the aspects specifically, you have come to know why the system is the most efficient for you. I hope now you have a brilliant idea about the sugarcane mulch. Try to apply the sugar cane straw for mulching your garden. Undoubtedly, you get the effective result to do the job.
Anyway, after doing the process a couple of times, you will become an expert in mulch. Share your mulching experience and thoughts through the comment box. Good luck with your new gardening performance.