White turmeric is a great spice that acts as a particularly useful ingredient in cooking. It also plays an incredible role as an Ayurvedic agent in enhancing the taste of food. This spicies plant can be the most valuable plant in your garden. However, you have to know all the information about it before planting.
As a gardener, you must grow the white turmeric plant in your garden. Because the benefits of using it are many. That's why you should know everything about the plantation, its benefits, and more about it. On that note, you are looking for writing about the whole information on it, right?
Well, today's article includes everything you need to know about it. You will find all the necessary queries also. However, keep reading the article and know the details about the interesting thing.
White Turmeric Information & Facts
White yellow is more commonly known as Curcuma zedoaria. India and Indonesia are the native places of this species. It was very common in India at one time, but now it can be said to be very rare. People have almost forgotten its use and its benefits of it and are using yellow turmeric instead.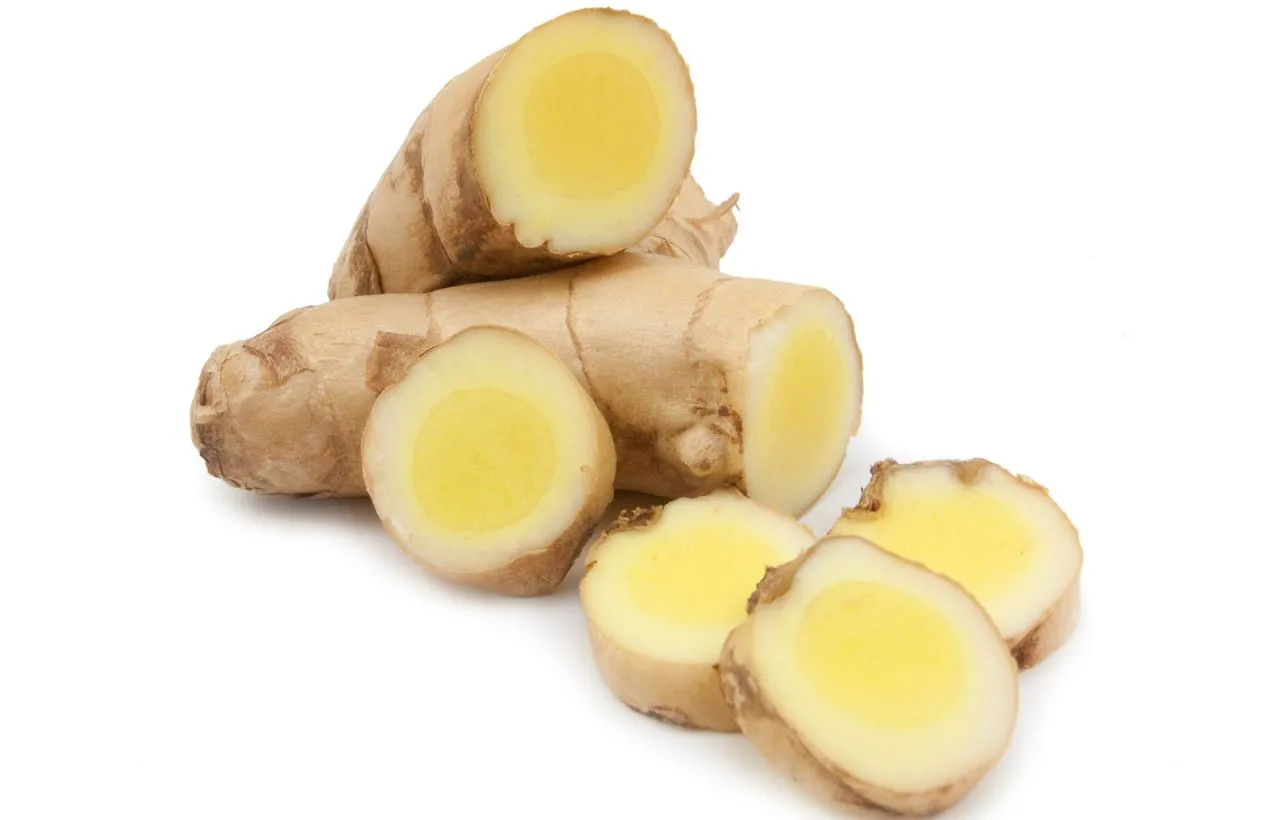 This turmeric gives a very ginger-like spice flavor. Cultivating this rare turmeric can be a great opportunity for you to make your garden valuable. Its extraordinary flowers will enhance the beauty of your garden a thousand times. However, it can be difficult to get all kinds of guidance from the planting to care for this rare plant.
Also, its value as a cure for various diseases of the human body is endless. It is adept at relieving any pain, menstrual problems in women, skin problems or inflammation. It has been very popular since the middle ages for its ayurvedic properties and is greatly known as a perennial herb.
The Difference Between White Turmeric & Yellow Turmeric
You might be thinking that there is a big difference between the two that will particularly affect you. But actually, it is not. Only colour variation is more. The Turmeric looks a lot like ginger and gives it a hint of ginger in taste and smell. But the yellow one is yellow in colour, your finger will turn yellow as soon as you touch the inside of it.
This white-coloured turmeric does not contain curcumin which is present in the yellow spice. This curcumin is said to be a treatment for joint pain in the body. Again, you won't find the labdane diterpenes in the yellow spices. It plays an important role in human body structure.
Due to the presence of curcumin in this yellow spice, it can have a negative effect on the human body. For example, excessive consumption can cause skin problems like diarrhoea, rashes, and headaches. As you already know, the white one is the best in this respect as it does not contain such curcumin, although its traffic in the market is meagre.
Here I present a chart of the differences between the two shortly:
| | | |
| --- | --- | --- |
| Topic | White Turmeric | Yellow Turmeric |
| Colour | Like ginger | Yellow or orange |
| Smell | Mango | Orange or ginger |
| Taste | Ginger | Bitter |
| Anti-inflammatory Agent | Labdane diterpenes | Curcumin |
| Side Effects | No side effects | Diarrhoea, rashes, and headaches |
| Availability | Almost rare | Available |
Plantation
For planting turmeric, you have to prepare your soil first in your garden. Make the soil clean, loose and warm. It will be more effective if you plant it from September to October. Turmeric seedlings should be planted 6-7 cm in the prepared soil. Make sure that there is at least 20-25 cm space between each plant.  You can also do this planting in containers if you want.  Definitely, it will give great yield.
This spice tree is more valued for its attractive white or pink flowers. Fertile and alluvial soils are the most effective for it. Waterlogging should be avoided as it dies due to waterlogging. Try not to overshadow the area.  Good for light shade and light sun.
White Turmeric Uses:
Do you have any idea about what is white turmeric used for? Apart from being used as a great spice, it has many other functional uses. Some of the uses are mentioned below:
As A Medicine:
Turmeric is a great solution for various stomach problems like indigestion, vomiting, constipation, stomach pain etc. It is most useful as Ayurvedic for such diseases. It is also effective in fighting inflammation as mentioned earlier in the article.
Skin Whitening:
There is no substitute for bright, glowing and smooth skin. It is used as a skin brightening top ingredient. Face packs made with this masala miraculously fade acne, blemishes, age marks etc.
Making Tea:
This turmeric tea is very beneficial for the body. It is also called herbal tea. Yes, you heard it right it is White Turmeric Tea. One can wonder how it is made. The easy preparation method is mentioned below:
Boil water in a teapot. You have to boil it at a high stove temperature. Now add turmeric, lemon juice, and honey to the water and keep it on low heat. You can add black pepper and ed if you want. After 7-10 minutes in the oven on low heat, take it out of the oven in your favourite mug. Enjoy now.
Other Recipes:
No spicy dish could be thought of without it when it was available. Now people have converted their demand to turmeric. It is the best spice to make any food delicious and smell good. Pickles are also made with turmeric which people love to eat. This favourite recipe is very easy to make.
Turmeric is slightly processed and eaten like a salad to get its benefits. Here's a recipe to eat after a little processing that will give you instant gratification:
Peel the yellows and cut them into small pieces. It can also be sliced ​​at your convenience. Apply turmeric powder, salt, and lemon juice well to the pieces of turmeric. Now you can dry it in the sun and eat it. Many people store it in the fridge and eat it. If you want, you can eat immediately.
Related Questions:
Is white turmeric edible?
The turmeric is edible though it's not commonly used as yellow turmeric. You can keep this as a spice in your food because it has some health benefits. The health benefits of the species are nearly the same as the yellow ones.
It has anti-inflammatory properties that can cure any skin or other inflammations. Turmeric also helps with the human body's digestive system, besides working as an antioxidant.
As it is edible, you can add it to rice cuisine or other curries to increase the flavour. It can also be a part of some salads like some traditional salads of Thailand.
Where does white turmeric grow?
This belongs to the Ginger family, and that's why it tastes bitter like ginger. However, the species is turmeric, and we all know it as one kind of turmeric.
This plant grows mainly in South Asia or South-East Asia. The thing has been quite famous in India, Indonesia, Thailand, etc. because the plant's climate is favourable.
But turmeric is now grown in the USA and Florida states after some changes in the species. So, it is now available worldwide.
Is white turmeric the same as yellow turmeric?
You can consider white and yellow turmeric the same in some contexts. There may be some colour differences, but their average sizes and texture are the same. There may be some differences in the components of yellow and white turmeric. For example, both turmerics are essential spices and add flavours to food.
Moreover, they have almost the same properties and benefits. So, they can be each other's alternatives, and you can add one while cooking when another is unavailable. There will not be much change in taste if you add the spices instead of the yellow turmeric.
Is white turmeric rare?
White turmeric is not so rare that you can't find it available in the market. But it is rare; if you compare its availability with yellow turmeric, you may find it rare. The white version is rare because it doesn't increase worldwide. But yellow turmeric grows more efficiently, regardless of its geographical location.
To know about its uses, you must consider it a rare spice because very few people use it. People mostly prefer ginger instead of it as the former is more available and does the same in a curry.
Final Verdict
You can rarely have any turmeric side effects, regardless of its type. But having it excessively can create some problems in your digestion. Excessive intake of white turmeric can cause abdominal cramps, stomach upset, and inflammation in the stomach.
If you exceed the daily intake amount, you can have some allergy issues, and constipation or diarrhoea are the most common. So, you shouldn't have more than 500-1000 mg of turmeric daily. The amount is not only for the white one but for the yellow turmeric, also.