It feels incredibly amazing to see your garden thrive as a gardener. Building a greenhouse is one of the best ways to ensure your plants grow bountiful and healthy.
More and more gardeners and farmers invest in greenhouses for more efficient and effective gardening. In a 2017 report from the U.S. Census of Agriculture, there is a 19% increase in the number of spaces dedicated to greenhouse vegetable farming in the U.S. compared to the report from 2012.
Greenhouse provides the ideal environment to thrive, especially if you live in an area where the temperature is not perfect for gardening. It also protects plants from various elements that can harm them. Furthermore, it can keep them warm during the winter season.
However, many think building a greenhouse will cost a lot. Fortunately, you can build your own greenhouse without spending an arm and leg.
If you want to learn how to build a low-cost greenhouse, this article can help you.
How to Build an Affordable Greenhouse?
Apparently, it requires a lot of money and time to build a greenhouse. A small commercial-made greenhouse may cost around $1000 to $5000. However, if you cannot afford to spend that much money, there are several ways to build a low-cost greenhouse. You need just a bit of creativity and a few skills to create one.
Here are some ways to cut your greenhouse construction cost:
Use affordable materials
Some of the most common low-cost greenhouse construction materials used by gardeners are plastic sheets, PVC pipes, saplings, hog panel fence mesh, and lumbers. You don't have to purchase expensive materials to build your own greenhouse. You just have to do some research on where you can buy inexpensive materials around your area.
2. Repurpose some materials
A greenhouse usually has lots of windows. If you have old windows or sliding glass doors in your house, you can use them to build a low-cost greenhouse. You may also buy several items, such as heaters, fans, and shelves, in second-hand stores and online. This can help you a lot in cutting costs for your greenhouse.
3. Use a wall from an existing structure
Another way to build a low-cost greenhouse is to borrow a wall from an existing structure like your house, garage, or shed and attach your greenhouse. This way, you can build a lean-to greenhouse, which is more affordable compared to a freestanding structure.
However, building a connecting greenhouse to an existing structure will require professional help to ensure it is done right and can last long. Therefore, you will have to pay an architect or builder to help you achieve this plan.
4. Build a small one
A larger greenhouse requires more money as you need more materials, space, maintenance, and labor. However, keeping your greenhouse small means you don't have to spend much on its construction and maintenance.
How Do You Build a Greenhouse Under $100?
When building a greenhouse, your budget is one of the critical factors you have to consider. How much are you willing to invest? If you are aiming to build a low-cost greenhouse and have a budget of under $100, here are the things you should do:
1. Choose a design
There are heaps of greenhouse structure designs you can find on the internet. However, not all designs can be done with just a small budget. Some of the popular designs are:
Lean-to Greenhouse
This structure is attached to an existing wall. You may place it on one side of the wall or between two walls. This type of greenhouse leaves you with two or three sides to cover with sheeting material and a roof for a complete enclosure.
Even Span
This design is ideal if you want a small greenhouse in your yard. You may attach its one end to the house or let it stand on its own. Also, you may extend its size so you can fit more shelves and rows. Furthermore, it is covered by transparent glass, which provides enough sunlight to plants. However, it costs a lot to set up and needs its own heating system.
Ridge and Furrow
This greenhouse has an A-frame structure that can provide you with a large space. In addition, it is affordable to set up as you can use basic materials to construct it. For example, you may use some plastic film coverings or wood available in your home.
It is ideal for winter or rainy seasons as it drains snow and rain from the roof. In addition, its A-frame roof structure provides good heat distribution that allows plants to thrive.
Wooden Frame
This type of structure is one of the best greenhouses for winter because its wooden frame preserves the heat inside. Therefore, it is often used to store plants during cold weather. Furthermore, it is very cheap as heaps of low-cost wood are available in many places, and you may set it up without hiring a builder.
2. Gather materials
Once you have determined what type of greenhouse you are building, it is time to identify what materials you need. Since you have a limited budget, it is best to look for available materials in your home, such as wood, old windows, plastic sheet, steel, and old shelves.
3. Build and secure the walls
Using the materials available, build the frame for your greenhouse. Measure them carefully to avoid making mistakes and ensure that they are even. Keep them together with screws and nails.
4. Insert windows and doors
Windows are essential to have proper ventilation. Ensure the door and windows are appropriately inserted so they can last long. Also, if you can't cut or replace the glass of your window, you use greenhouse plastic and staple guns. This way, you can save more as greenhouse plastic is more affordable.
5. Fill in the gaps
If there are any gaps on your walls, windows, and door, fill them in. Make sure there are no extra holes in your wall, windows, and door. Also, your greenhouse should be appropriately insulated to protect your plant during winter and keep the temperature warm inside.
6. Install the roof
This part can be challenging for someone who is not a professional or lacks construction skills. First, you must ensure the roof is securely attached to the structure. Also, ensure no holes on the roof to avoid leakage during rainy or snowy seasons.
7. Install Shelves
After setting up your greenhouse's structure, it is time to install the shelves where you will be placing your plants. You may use second-hand shelves or build some using scrap wood.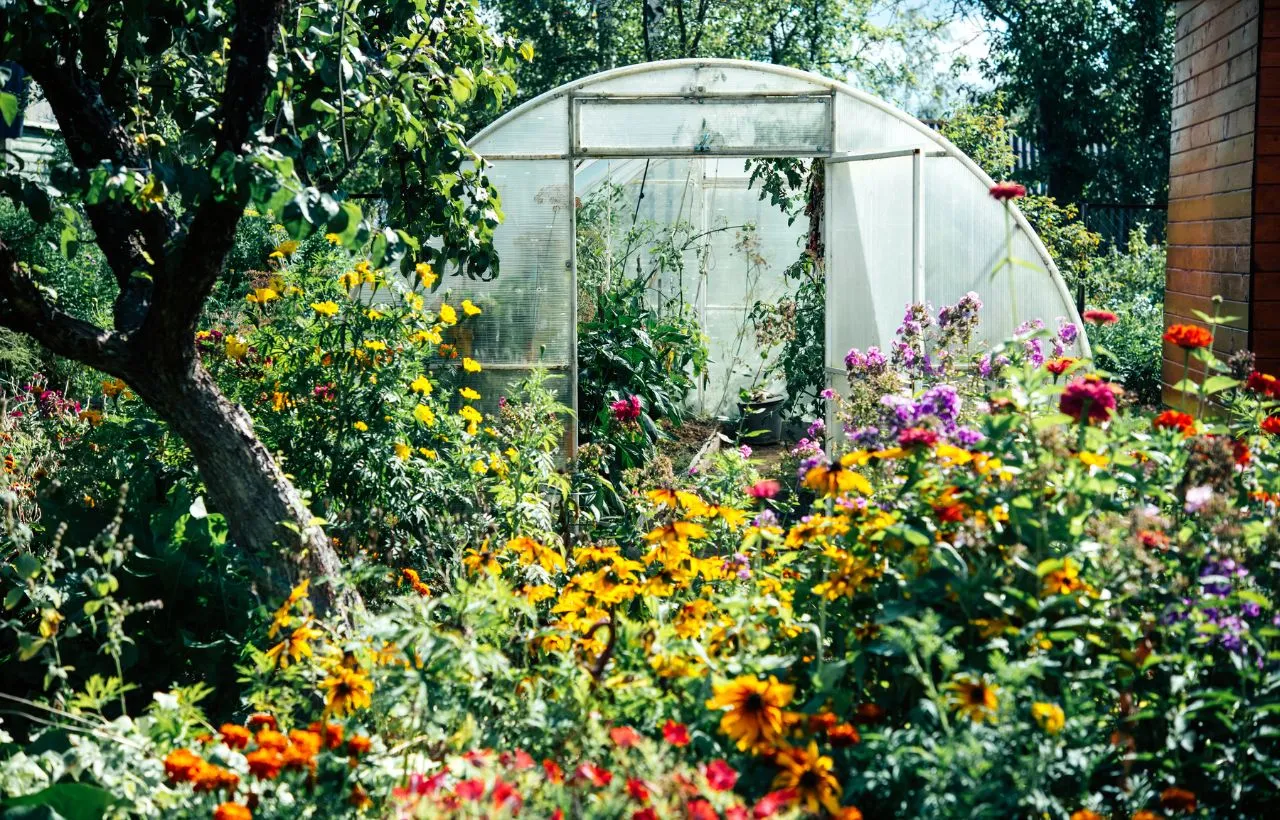 What is the Average Cost of a Greenhouse?
When it comes to identifying the cost of a greenhouse, there are several factors to consider. It includes the materials, style, size, site preparation, utilities, and climate. Also, the cost may increase if you hire a professional to build it. It costs around $3,00 to $15,293 to construct a greenhouse. And it has an average cost of about $9,146.
| | |
| --- | --- |
| National Average | $9,146 |
| Typical Range | $3,000-$15,293 |
| Low End – High End | $1,500-$25,300 |
It may cost a lot to start greenhouse farming; however, there are several ways that you cut its cost to achieve an inexpensive greenhouse construction. One of the best ways is a DIY greenhouse construction, as hiring professionals will definitely cost you a lot.
What Can I Use Instead of a Greenhouse?
Suppose you cannot afford to build a greenhouse in your garden. In that case, there are several alternatives you can use to ensure your plants will grow bountiful and healthy. Here are a few ideas you can use to come up with your own:
Bottled Up Mini Greenhouses
One of the easiest and cheapest alternatives for the greenhouse is the bottled-up mini greenhouses. You just have to screw the bottle's cap, cut off its bottom and place it on your plant to keep them growing even after the season ends.
2. Hoop House
Using a hoop house over your garden pots or bed can extend the life and season of your plants. This alternative can extend your gardening season by up to 4 months. You just need PVP pipes to insert into the ground and make sure they are curved over the pot's top. Then, use clear plastic sheeting to cover the garden bed. Make sure it is completely covered.
3. CD Case
If you have heaps of old plastic CD cases in your house, you may use them to create a mini greenhouse.
4. Window House
If you have some old window frames, you can use them and turn them into portable greenhouses. By utilizing cold frames, you will get enough depth to plant the fruit or vegetables and allow them to get enough sun.
FAQ
How long will it take to construct a greenhouse?
Constructing a greenhouse may take anywhere from a day to several weeks. A mini greenhouse can be set up over a weekend. However, a larger greenhouse will take some days.
Is it more affordable to buy or build a greenhouse?
Building a greenhouse is more affordable than buying one if you are using low-cost materials, such as plastic sheeting and PVC framing. In addition, purchasing the construction materials separately costs less compared to using materials from a greenhouse kit.
Does a greenhouse increase the house value?
One of the benefits of building a greenhouse is adding value to your home. Therefore, it can be a feature that some buyers would consider. Also, several buyers prefer homes with greenhouses.
Is greenhouse farming profitable?
Greenhouse farming has a great return on investment in its initial years, especially if you are located in an area where people love nature, greenery, and gardening. Greenhouse farming may generate a profit of around $50,000 to $100,000 every year.
Conclusion
Building a low-cost greenhouse requires some skills, a bit of creativity, and resourcefulness. Also, there are heaps of ideas you can use to minimize construction expenses, such as using affordable materials, repurposing materials, and keeping your greenhouse small.