Hello fruit lovers!
How are you doing today? I see you are growing fresh fruits in the home garden. Fruits directly from your garden to your bucket are a happy thing. Because you know how you are growing and you can have them immediately. No added preservatives! So, growing fruits can save your penny and health.
What's about round, shiny blueberries? Blueberries are nutritious fruits, and you can grow them in your garden. Yes. These purple berries taste amazing in cheesecake, ice cream, fruit salad, pie, and whatnot. So, you can make these tasty dishes on your own with blueberry farming.
This read will lead you o the road of growing, taking care of, and maintaining the blueberries. So, let's get the berries right away. And welcome to Gardenings Core to get your garden score of 100 out of 100.
The Popularity of Blueberries
Well, a hand full of blueberries in your daily smoothie is the perfect pick- because the health benefits of blueberries are a mere description. You can revive your health with these small, purple berries. It can benefit you in many ways. See the following benefits you can enjoy from blueberry consumption:
The berries help to reduce hypertension
Develops your brain and daily activities
This fruit can help to reduce weight
Helps in dietary condition
Cognitive improvement and improved cardiovascular function
Small blueberries got two hero ingredients – Phenolic acid and flavinoids. Both of them facilitate you in many health issues. It is a study published in the Mediterranean Journal of Nutrition and Metabolism. The long history of blueberries also represents how beneficial it is for health. Earlier, people considered it a spiritual spirit and named Star berries because they had five pointy star shapes at the end. People used it as medicine and utilized every bit of the blueberry plants. So, now that you know why blueberries are essential in your square meal, you are eager to grow them.
But in which part of the US do the blueberries grow the most? Well, the USA is the largest commercial producer of fresh blueberries. There are around 38 States that grow blueberries all year round.
Michigan is the leading producer, and New York, New Jersey, and Florida are other producing states. However, these states belong to the USDA zone 3-8. If you consider the varieties of blueberries, then you can count the rabbit eye, low blush, and high blush are the common varieties of blueberries in the USA. Blueberries are the State fruit of New Jersey. North America is the native zone for blueberry farming. This is found in a report presented by FDA under Western Institute of Food and Safety.
Things you need to Grow Blueberries
Now that you know blueberries keep you as healthy as horses, let's move on to its growing details. The Americans love to enjoy this fruit because it's a wild fruit, but sometimes it is hard to farm them. What do you actually need?
Location: It is essential to choose a site in your home garden or your garden plot that receives plenty of sunlight for blueberry farming. Blueberry plants don't love shades. They grow and give fruits only in the bright sun.
Soil pH: The luscious, fierce purple berries love to grow in acidic soil. pH 4-5 is okay for the blueberries. If the soil pH is more than 5, you have to add nitrogen or ammonium sulfate to lower the pH means increasing the acidity and the soil is good to grow. Remember to add the sulfur amendment with soil compost at least six months prior to your blueberry farming. It will help to reduce the pH slowly and effectively.
Soil type: Like other fruits and veggies, blueberries love to grow in loamy soil. These fruits love an organic-rich medium, and the soil should be moist enough but not soggy. However, if your soil is rich with organic residue/ compost, you don't need to worry for fertilizer. The plant uptakes the nutrients from that compost.
Mulching: Blueberry farming can go right if you mulch the bushes regularly. Remember, the blueberries have a shallow root system. So, make sure they don't have to compete with the weeds. Try to weed once in a while but not harsh that will harm the berry roots. Mulching can help to hold the moisture of your garden bed, so add 1-4 inches of mulching around your blueberry plant's root.
Choosing the correct variety: As mentioned earlier, there are three varieties that you can choose for blueberry farming. Hence, these varieties don't grow everywhere. So, while preparing your garden bed, you can quickly research which blueberry thrives in your zone. To make it easier for you, look at the list down below:
| | | | |
| --- | --- | --- | --- |
| Blueberry Varieties | Description | Native Areas in the USA | Example |
| Low Bush Blueberries | Grow well in winter, easy to grow. They grow 6 inches to feet. | Native to Northern part of the USA. | Top Hat, North country, North blue |
| High bush Blueberries | The plant is 6-8 feet tall. Self dependent. And grow well in the cold weather. | This is also native to the Eastern USA | Pink Icing, Duke. |
| Rabbit Eye | Can grow 3-6 feet tall. It requires pollinators. |  Native to South Eastern United States | Bright well and premier. |
There is another variety called half high. This variety is similar to the high bush blueberries and it grows well when it is next to other blueberry bushes. Now that you know well about the types, you can definitely choose the right variety for your garden bed.
Spacing: Proper spacing is another vital factor in growing your blueberry bushes perfectly. Without plenty of space, each plant and the growth will not be satisfactory. You will also find trouble picking up your berries from the growing beds due to a lack of space. Keep in mind to plant your blueberries at least three feet apart. It is plant spacing, and the row spacing will be 12-15 feet apart.
Pruning: Not necessary, but when you see the two bushes join together or they are closing your way to the garden bed- at that time, you need to go for pruning. The bushes grow taller, but pruning will allow the plant to bear healthy and delicious fruits.
Pesticides: The berries can get some pests while in the plant or after harvesting. A common one in blueberry farming is the Western Flour drips. These pests eat up the foliage of blueberry plants after harvesting the fruits. But you can organically treat that, like microscopic wasps.
Protection: Let's save your blueberry from the critters. How come? The birds and other tiny creatures love the purple, sweet berries as much as you do. So, save your berries from the bird's eye by building scarecrows, flash tapes, etc. Well, in extremely cold weather, you can use the frost blanket for your blueberry farming.
Okay, with these simple steps, you are on the best way to growing your sweet berries. Remember choosing the appropriate variety as per your growing area because it will confirm the successful yield.
When can I harvest my blueberries?
Imagine you are picking up all the sweet blueberries and placing them in a bucket! What a satisfaction. Well, now that you know about blueberry farming, let's move on to harvesting them.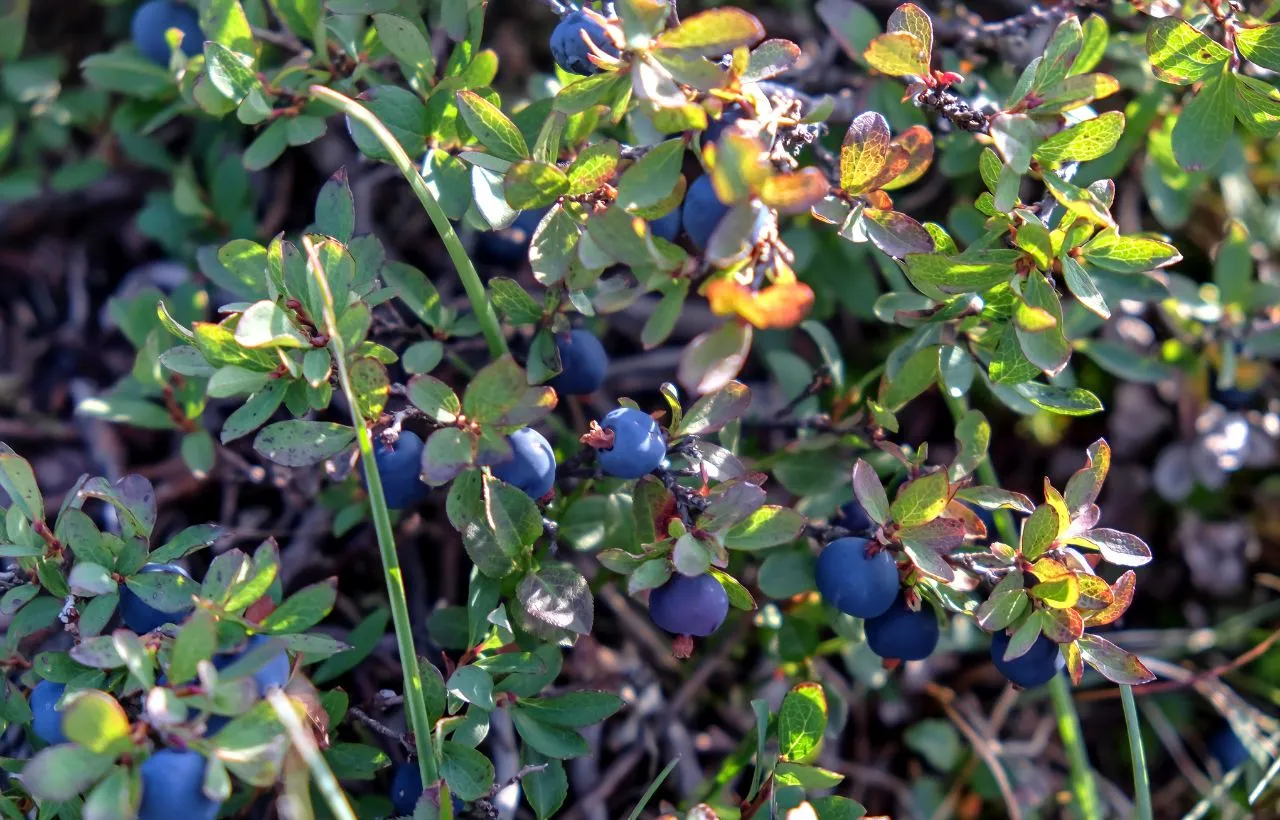 In most cases, the blueberry harvest depends on the weather conditions and the variety. For low bush berries, flowering is in the spring, and you can pluck the berries from June-August. If you are growing the high bush berries, you can have them in early-mid august. Again the rabbit eye bush can produce fruit in the June-July season.
They grow green as they start up and turn purple when they are ripe. You can pick the blue-purple berries after they get dark in color. Remember to pick those between 4-5 days. Otherwise, the sweetness will decrease.
How to pick the blueberries? Because the berries grow in a cluster, you need to check which one is ripe. So, first, see which one is bigger and darker in color, then pick them off the bushes, and you are ready for a blueberry recipe!
Can I grow Blueberries in pots and in warm conditions?
The answer is yes. Some of us do not have a large garden bed to go for blueberry farming and also reside out of the growing zones of blueberries. But still, you can harvest these sweet plumps. Add your regular soil, camellia & azalea to the potting mix to maintain acidic pH, and plant your blueberries. The container should be 15-16 inches large in width.
Though the blueberry love to grow in a sunny point but as you are in a warm zone, try to give a bit of shelter to your blueberry plants. So, nothing is impossible. You can either have your market-bought berries/ have some fresh berries from your pot.
FAQ
Let's see what comes up in most of the readers' minds when they plan for "blueberry farming." Check out the FAQs below:
Can I grow blueberries from seed?
Seed propagation is easy in terms of the blueberries.  You can collect those brown seeds while eating and plant them in an indoor container. This takes almost three months to sprout. Afterward, you can plant them outdoor.
How many years does it take for a blueberry bush to produce fruit?
Depend on the climate and variety you are growing. However, if you plant a cute, young bush, that might take at least four years/ more to produce at a full scale. Or if you pick a 2-3 years old bush, you can get a large harvest within two years.
How many blueberries per bush?
Blueberries are a heavy producer. Once they reach their mature stage, you can expect 1-5kg blueberries per bush from your blueberry farming. But it differs with the varieties.
Last Word
I hope you can grab a lot about blueberry farming. Following the above steps, you can harvest a lot of blueberries in your garden.  Round, sweet, and flashy berries can be the right pick for your sweet fruit craving.
So, go and dig your garden bed to raise those purple blueberry bushes! Wish you a happy fruit gardening!