San Diego is the vibrant coastal city of California. It is a city with a massive population and stands to be the seventh largest city and second most populated state's county. What makes San Diego popular? It's warm weather, beaches, parks, and eye-catching flower gardens.
There are lots of must-see attractions in San Diego. You can visit the world-famous San Diego zoo, aircraft museum, and whatnot. But if you are a flower lover, flower gardens in San Diego are the best place for you to explore.
So, let's check out the hyped flower gardens at a glance. But, what is the closest flower garden near me? However, my list will provide you with the address, ratings, and reviews of the following flower gardens in San Diego. So, this will be easy for you to pick!
Can you feel yourself already in a flower garden? Here, we begin.
The Flower Fields
Some horticulturists started to grow flowers on their acres, and as time passed, it became a public attraction.
One is Gage Luther, and Frank Frazee is the pioneer of the Flower Fields. Later, Edwin Frazee, son of Frank Frazee, gave his efforts to this flower field. And this flower garden of San Diego has a history of about 85 years. Massive, right?
The first seedling of this garden was Ranunculus. Edwin Frazee was on his work, and Paul Ecke jr. joined him. With their collaboration from growing Ranunculus along with gladiolus, the flower field started to flourish and was ready to become a tourist attraction. However, in 1999 the Armstrong Garden Center agreed upon a retailing store in the Carlsbad Ranch flower field. In 2002, both Edwin and Paul died, but Paul Ecke Jr.'s family is still serving Flower field.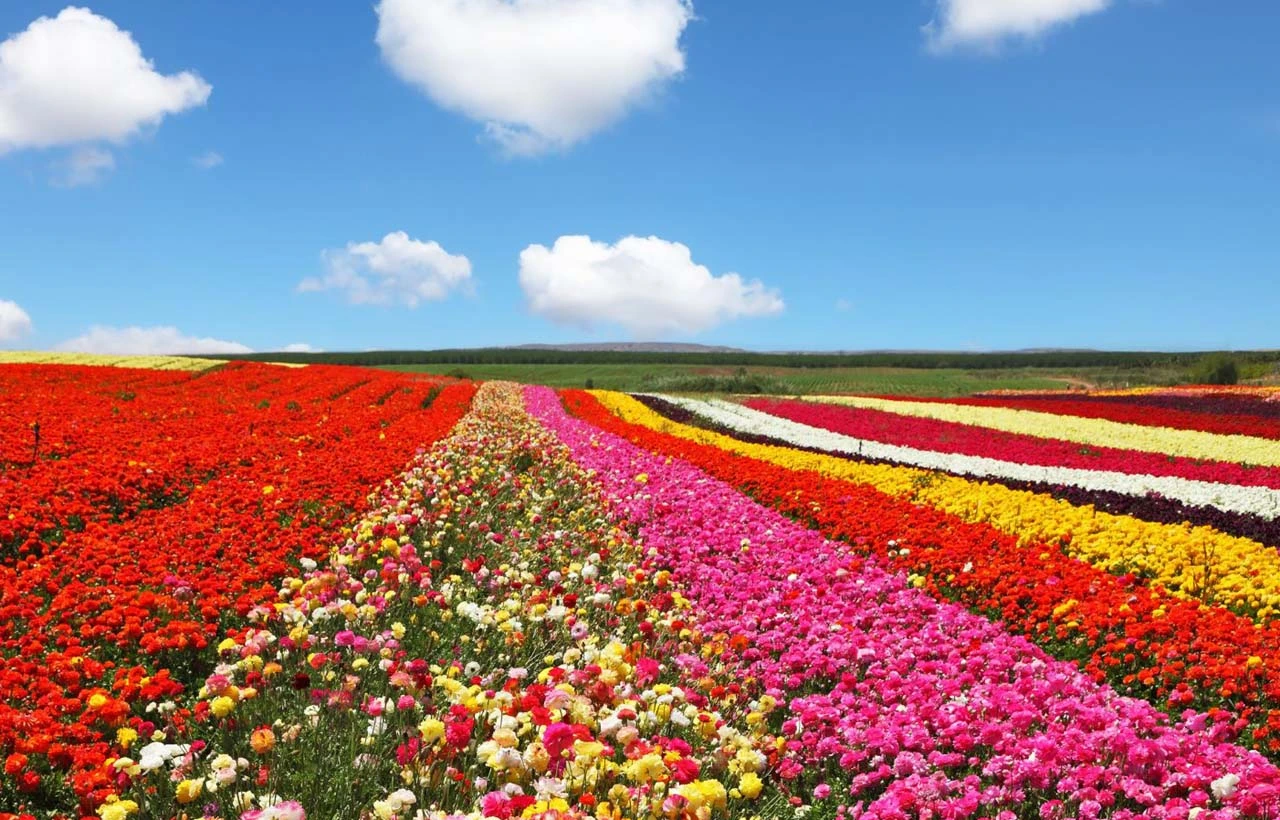 Okay. A quick view of the Flower field. This 50-acre flower field has a lot to give you.
You can book the tickets for this flower garden of San Diego through its website, and in-person ticket selling is not available here. However, you can enjoy the Flower field a bit more if you visit between March-May as the bloom is highest in this season. You can have- Pizza trolley, Carlsbad mining company, flower garden, Armstrong garden center, and many more. You can't bring a drone, alcohol, or a pet inside the flower field.
The Flower field garden allows all educational programs like art, music, sweet maza, and recently, the composting or recycling program among the students. The recycling program promotes the environment's well-being. The cost per student depends on their class standards. So, the school authority can fill up an online application for a visit.
You can enjoy a private program in the halls of the Flower field like a dinner party or fundraising event. The Flower field in San Diego has two outdoor and one indoor venue.
It has got a lot of positive reviews, and many shared their pictures of the visit. Stephenie Notley said, "a beautiful ground in April.' Another visitor, Katherine, shared the ticket budgets. It is 21-30$ for adults and 10$ for kids.
So, the Flower Field of San Diego is a worthy place to visit and enjoy the ethnic beauty of nature. Please check out the details below for more updates:
Address: 5704 Paseo Del Norte, Carlsbad, CA 92008
Website: http://www.theflowerfields.com/
Contact: +17604310352
Opening Hours: 9 AM- 6 PM; no closure on weekends and open on any
Rating: 4.6
Reviews: 5201
San Diego Botanic Garden
Now it's time to explore the San Diego Botanic Garden. Initially, it is spacious, extending up to 37 acres, and blessed to have epic biodiversity of plant species that attract the nature-lover most.
This urban oasis started its journey in 1970, formerly known as Quails Garden. Since then, it has offered people a great view of nature with more than 5000 plant varieties, of which 300 species are their own. It has the pride of exhibiting North America's best bamboo collection.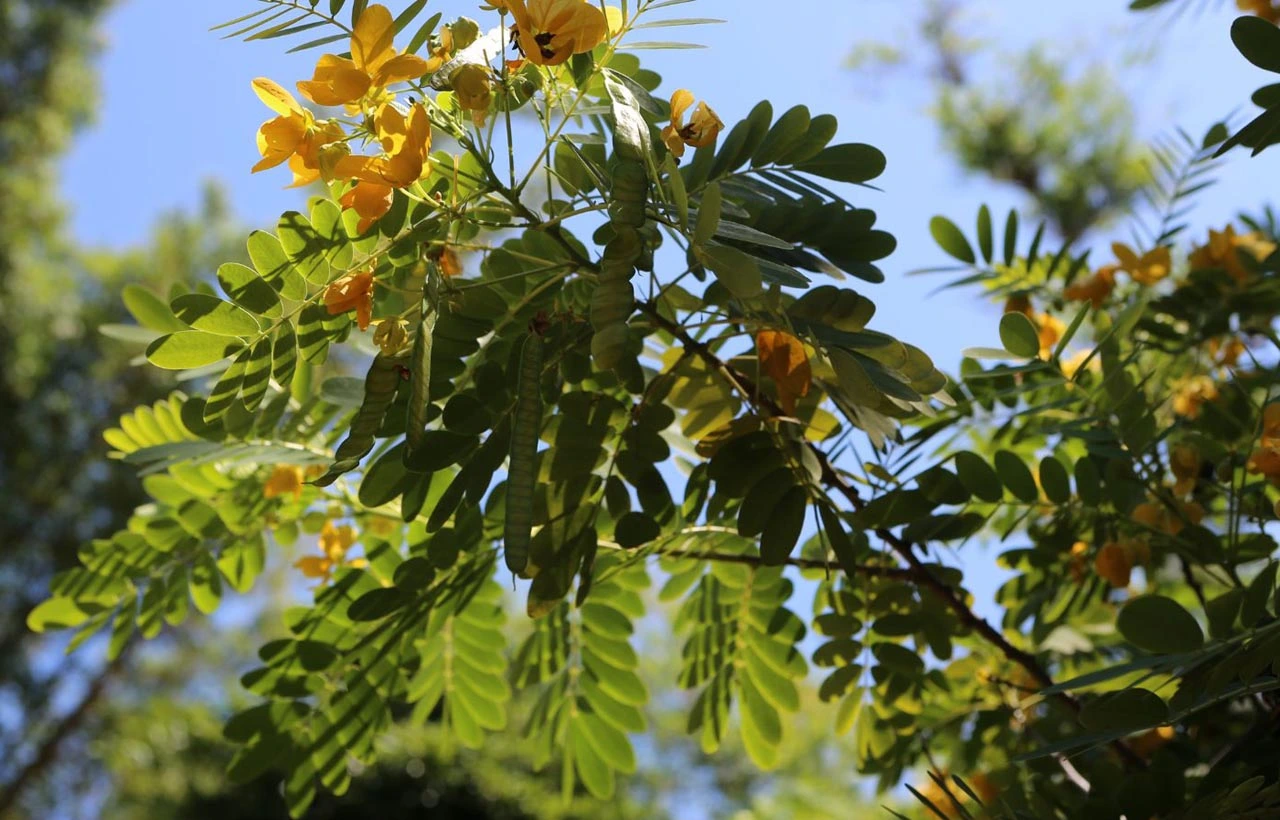 Hence, children would love to visit the San Diego Botanic garden as they can enjoy three Gardens in a row specialized for them. You can enjoy an ocean view from the top of the valley, enjoy creative statues and enjoy the garden trails. It has turtle ponds, a tree house, edible gardens, a giant waterfall, and whatnot.
Oh, the Wedding bell rings? Well, San Diego Botanic garden wedding can be memorable for you. This garden can offer you both indoor and outdoor wedding arrangements. If you want to book one, rent can be 1300$-3800$; the security deposit can be 200-1000$ which is non-refundable.
Well, there are tons of reviews about the San Diego Botanical garden. People are mesmerized by the waterfall, tree house, ocean view, and some rare stuff- like the bloom of the Corpse flower in the botanical garden attracts many people. Because this flower bloomed in 8 years for the first time, and the flower stayed for two days. So, it has flowers from different regions of the globe.
Jessica, Holly, and many others are satisfied visitors of this botanical garden, and the ratings don't lie. Christina Smith, a local guide, wrote- San Diego botanic garden is a perfect place to spend the holiday. It has magnificent light shows, a festive vibe, marshmallow roasting, and live shows. You will probably need 4 hours or more to explore the whole area.
The reservation cost can vary among adults, children, military, and toddlers. Here it is:
| | |
| --- | --- |
| Adult | 18$ |
| Military, Senior citizen(+60), students | 12$ |
| Young(3-17) | 10$ |
| Toddlers: | Free. |
San Diego Botanic garden tickets are available online. There are special event tickets and extra service for a member as well. San Diego Botanic garden free day can happen on Tuesday or other special events.
To sum up, it is a package of beautiful nature in San Diego. So, hurry up and look at the details below:
Address: Quail Gardens Drive and Ecke Ranch Rd, Encinitas, CA 92024
Website: http://www.sdbg.org/
Phone: +17604363036
Opening hours: 9AM- 5PM; closed on Tuesday
Rating: 4.7
Reviews: 2621
San Diego Alcazar Garden
This San Diego flower garden is a different one with a massive history and modern architecture. Alcazar castle of Spain is influential in this flower garden. Hence, it is a perfect flower garden to get the zest of Spain in North America!
This landscape garden has fountains, Moorish tiles, and Gazebo as a perfect versatile modern flower garden. The Alcazar flower garden is situated at Balboa Park and is known as one of the themed gardens of Balboa Park. Balboa Park has a history from the world war two Era. Through many transitions, it has come to its present excellent form.
Resident-free days are available for natives of San Diego and Military persons with their families. You can get free parking here. At night time, the garden becomes more colourful and lively.
Some recommend visiting this flower garden in San Diego at different seasons because the garden harvest rose to cherry and many more flowers according to seasons. That gives a different outlook for a different season. You can bring your pet to the Alcazar garden and walk along.
The ornate fountain amid the garden and colourful flowers make it a beautiful one. Are you worrying about the entry fee? Well, this San Diego Flower garden is free to enter. Nearly 30-35 minutes is enough to explore the Alcazar flower garden. It is more like a private, majestic garden with broad walls and the California tower behind it. Thus, this makes it even more royal.
Michale M, a local guide, wrote that the Alcazar garden is a place to sit, relax, and even have lunches. Another visitor David Janisch wrote that many people even get married here, and Alcazar Garden is a picture-perfect place. So, a must-visit part of Balboa Park.
In short, it is a perfectly serene place as  Flower gardens in San Diego with a sprinkle of Spanish culture. So, see the details below to plan your visit now.
Address: 1363 El Prado, San Diego, CA 92101
Phone: +16192390512
Opening hours: 6 AM-10 PM; open on any day; no closure on weekends.
Rating: 4.7
Reviews: 731
Conclusion
So, here I end up with my suggestions for you. This beach city has many flower gardens for you. Depending on your tastes, you can choose any of them.
Who doesn't love nature, flowers, and aesthetic views all in one? The flower garden in San Diego can surely make you do much more with nature.
If you want to enjoy the buttercups and tractor rides, visit the Flower Field garden. If you are more fond of trails and plants, visit one of the top 10 gardens of America, which is the San Diego Botanic Garden. Do you want to go for the Balboa park series? Then pay a visit to Alcazar flower garden.
Well, visitors, set your mind to explore the most beautiful flower gardens in San Diego! Enjoy the Flower grand time!